India
West Pakistan refugees demand 'basic' rights even after 70 years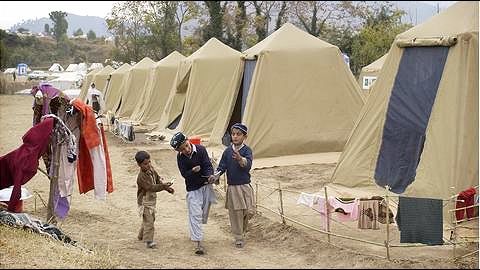 West Pakistan refugees in Jammu & Kashmir "don't see any hope" in the government's decision to issue nativity/identity certificates as they wouldn't entitle them to fundamental rights.
They migrated after the 1947 partition to settle in Kathua, Samba and Jammu districts.
For nearly 70 years, they have been demanding citizenship, right to vote and contest state assembly polls, and a rehabilitation package in vain.
In context:
West Pakistan Refugees and nativity certificates row
21 Dec 2016

J&K's PDP-BJP Government issues nativity cards to West Pakistan Refugees
Jammu & Kashmir's PDP-BJP Government started issuing nativity certificates to 'West Pakistan Refugees (WPRs)'.
Divisional Commissioner Pawan Kotwal said the Union Home Ministry directed them in Aug'16 regarding the certificates.
WPRs are settled in J&K after the 1947 partition, but weren't issued state citizenship by any government.
The Opposition and separatists sharply criticized the move; the government clarified that WPRs weren't entitled to permanent-residence.
27 Dec 2016

West Pakistan refugees demand 'basic' rights even after 70 years
Love India news?


Stay updated with the latest happenings.
Citizenship

West Pakistan Refugees in J&K comprise of 19,960 families
Currently, there are 19,960 families with a population of about 80,000-85,000 which form West Pakistan refugees.
They, however, aren't considered "naturalized" J&K citizens, though several of them have been living there for three generations.
They are entitled only to vote in parliament polls but not in state assembly elections.
The J&K Constitution provides voting rights in local and assembly polls only to naturalized residents.
Violent protests in J&K

Issuing "nativity certificates" to WPRs sparked violent protests in J&K, prompting Government Spokesperson and

Education

Minister Nayeem Akhtar to clarify it wouldn't change the refugees' status. He said, "This does not in any way change their status. They will continue to be the non-state subjects."
Refugee Status

Non-issue being made a serious issue
The West Pakistan Refugees Action Committee 1947's Chairman, Labha Ram Gandhi, agreed with Nayeem Akhtar.
He said a false impression was being created that the refugees' status has been changed.
He also stated the "non-issue" is being made a serious issue and given a communal color by vested interests, including politicians.
He added, "We are being issued identity certificates and not domicile certificates."
Nayeem Akhtar's statement

"The WPRs being non-state subjects can't apply for any job within the state. So to facilitate them to get jobs in paramilitary forces and other central government establishments, the government has issued them the Identity certificates."
Love India news?


Stay updated with the latest happenings.
Central Governments

WPRs' settlement is neither political nor communal
WPR Chief, Gandhi blamed the successive central-governments for the refugees' plight.
He said WPRs' settlement is neither political nor communal but a humanitarian issue.
He also said the government should issue citizenship as they are the citizens of India, living for nearly seven decades.
He added, "Many committees, groups, were formed to look into our demands, but till date, they remain only on papers."
Labha Ram Gandhi's statement

"In the grab of an identification certificate, there is a sinister design to convert the entire J&K into a Muslim state or get it integrated with Pakistan. The saddest part is weak and appeasement policies are being pursued by the successive Central governments."