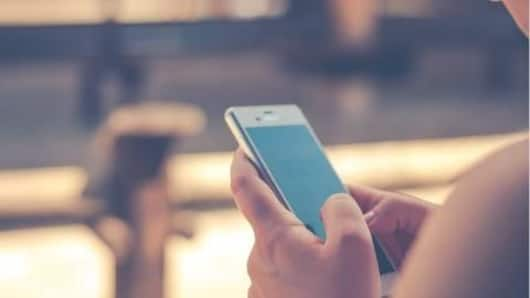 #CareerBytes: 5 best educational apps for Class 12 students
The Class 12 Board Examinations are crucial as they play an important role in shaping a student's career and future.
Nowadays, there are a number of mobile apps for students that provide study material, question papers, tips, and other exams preparatory material to help them prepare properly for the Class 12 exams.
Here are five best educational apps for CBSE Class 12 students.
BYJU's is one of the most popular educational mobile apps
BYJU'S is one of the best online learning platforms in India. Its mobile app is among the most preferred ones to prepare for Class 12 exams.
The app offers various courses, video lectures, chapter-wise tests, study material, detailed analysis of concepts, etc. that can help students learn in an effective manner. It also provides other material like solved previous question papers.
myCBSEguide is one of the best apps for Class-12 students
myCBSEguide is one of the best educational mobile apps for Class 12 students.
It has a great collection of study material, study notes, and NCERT books among other things.
The app also provides CBSE syllabus, solutions, chapter-wise important questions for different subjects, quick revision notes, sample papers, guess papers, etc. Students can also watch videos and take online practice tests on the app.
Love India news?
Stay updated with the latest happenings.
Yes, notify me
#3: ePathshala app by NCERT and MHRD
ePathshala is a mobile app is another useful app for Class 12 students. It was developed jointly by the NCERT and the Human Resource Development Ministry. The app, available in multiple languages, provides educational resources which can be downloaded for offline use.
Toppr is another top-rated educational app
Toppr is a popular learning app that offers various educational resources along with personalized learning solutions according to the user's requirements.
One can access customized question banks, watch video lectures, take test series, join study groups, take mock tests, etc.
The app also helps students set learning goals and reach them at their own pace apart from offering 24x7 expert assistance for clearing doubts.
#5: MeritNation is also a good education app
Next on the list is the Meritnation app which is another useful one for Class 12 students. It offers study material, NCERT solutions, popular reference books, sample papers, topic-wise and chapter-wise tests, study and revision notes, previous papers, full-length mock tests, etc.
Is following only NCERT books enough for board examinations?
Asked 2019-05-03 03:18:01 by Shaurya Patel
Answered by NewsBytes
Yes, NCERT textbooks are enough for your board exams as CBSE provides questions from the NCERT syllabus in the board exams. However, if you have already revised NCERT books thoroughly, you can then refer to other preparation books.
What are some tips to follow for board exam preparation?
Asked 2019-05-03 03:18:01 by Abhinav Venkatesan
Answered by NewsBytes
To prepare for board exams, you can follow these tips: Know the complete syllabus. Create a study timetable for effective preparation. Focus on all subjects and topics. Prepare a revision plan; make notes of what you've studied. Identify your weaknesses and work on getting better. Solve sample papers and previous question papers. Maintain a record of your performance to understand how you can improve.
Which are some YouTube channels and apps to prepare for NEET?
Asked 2019-05-03 03:18:01 by Arnav Kadam
Answered by NewsBytes
The best YouTube channels which you can follow to prepare for NEET are (1) NEETprep, (2) Etoos education, (3) Toppr, (4) Biomentors Classes Online, and (5) Merit store. Android apps you can use for preparation are (1) NEET Preparation Offline 2018, (2) Toppr, (3) NEETprep, (4) AskIITians, and (5) Aakash iTutor.
How to score high marks in math board exam?
Asked 2019-05-03 03:18:01 by Harini Rathore
Answered by NewsBytes
For math, you can score good marks with a thorough understanding and practice. Prepare a proper schedule and work on your weaknesses. Practice and revision are very important for this subject. Instead of blindly mugging up formulae and theories, try to understand how to apply concepts, theories, and formulae. Solve previous years' math question papers and sample papers to analyze and improve your performance.