#CareerBytes: Paper pattern, different stages of UPSC Civil Services Exam
India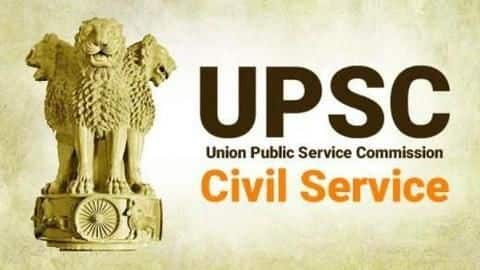 kazma rubaab
Asked on 5 May, 2019
Which subject will be suitable as an optional subject?

Answered by
NewsBytes
You can choose an optional subject by following these simple procedures, (1) Go through the list of all optional subjects, read it carefully, (2) Choose your favorite subject, in which you have more interest and you think you can perform well, (3) Select 4-5 subjects of your choice, (4)Go through the syllabus of these subjects, (5)After comparing the syllabus, choose the final subject.
abhijith abhi
Asked on 4 May, 2019
What is the minimum qualifying marks for UPSC Mains?

Answered by
NewsBytes
The minimum qualifying marks vary every year. In 2018, it was 98 for General category, 96.66 for OBC, 84 for SC and 83.34 for ST.
LATHEEF ABBAS
Asked on 4 May, 2019
There are two papers for optional subject. What about are they?

Answered by
NewsBytes
For the UPSC CSE Mains, candidates can choose one subject from a list of many optional subjects. Candidates should choose only one optional subject. This optional subject will have two papers and each of which accounts for 250 marks.
Dibyani Tiwari
Asked on 4 May, 2019
If one wants to prepare for the UPSC, what are the basic steps one should follow for the same?

Answered by
NewsBytes
To prepare for the UPSC exam, you can: (1) Read thoroughly NCERT books from Classes 6-12 as they provide the basic details on any topic, (2) Read news daily to stay updated on national, international events, (3) Improve your writing speed by attempting as many mock tests as possible per day, (4) Make notes and revise them on a daily basis.
Dibyani Tiwari
Asked on 4 May, 2019
In general awareness, are questions asked from current year or from the previous year?

Answered by
NewsBytes
The General Awareness section covers general knowledge, which can consist of questions from Indian and world politics, Indian Constitution, History of India and the world, Indian and World Geography, Environmental Science and Ecology, Economics and social development, Current affairs, General Science, etc. They could be from the current or previous years too.
Eksh Station
Asked on 4 May, 2019
How many papers are there in mains exam total? Could you give the description of the papers and the marks they carry?

Answered by
NewsBytes
CSE Mains consists of 9 papers: two qualifying exams (300 marks each) and 7 others (250 marks each). The qualifying papers are Indian Language and English Language exams. The remaining 7 papers of Mains are: Essay, General Studies papers I to IV, and Optional papers I and II.
Komal Prasad
Asked on 4 May, 2019
What are the optional subjects? I want to know about them.

Answered by
NewsBytes
The list of Optional subjects includes Agriculture, Animal Husbandry and Veterinary Science, Anthropology, Botany, Chemistry, Civil Engineering, Commerce and Accountancy, Economics, Electrical Engineering, Geography, Geology, History, Law, Management, Mathematics, Mechanical Engineering, Medical Science, Philosophy, Physics, Political Science and International Relations, Psychology, Public Administration, Sociology, Statistics, and Zoology. Candidates may select any one of these for Mains. Alternatively, they can choose any Language/Literature subject too.
Aazam Shaik
Asked on 4 May, 2019
Is there no importance of interview round in rankings?

Answered by
NewsBytes
Performance in the interview round plays a crucial role in the rankings. Marks of both Mains and Personality Test are considered for the ranking.
Lungthailung Gangmei
Asked on 4 May, 2019
Is it compulsory to write the papers in Indian languages for a candidates hailing from the North East?

Answered by
NewsBytes
You can take UPSC exam in 22 government recognized languages of India. These languages include Hindi, Tamil, Assamese, Bengali, Bodo, Dogri, Gujarati, Kannada, Kashmiri, Konkani, Maithili, Malayalam, Manipuri, Marathi, Nepali, Odia, Punjabi, Sanskrit, Santali, Sindhi, Telugu, and Urdu.
Amrita Sharma
Asked on 4 May, 2019
What is procedure of applying for the UPSC Mains exam?

Answered by
NewsBytes
The shortlisted candidates will be sent a detailed application form for the Mains exam.