CSK v/s MI: IIT-Madras exam paper asks who will win?
India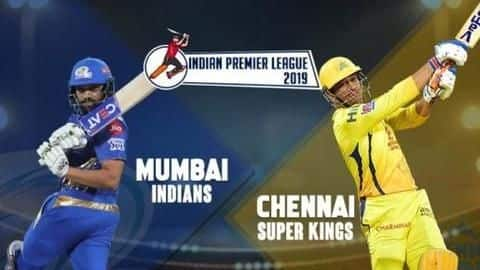 The IPL fever has gripped the nation this time as well.
This gets proved by the fact that a prestigious institute like IIT-Madras has asked a question in an exam paper as to whether MS Dhoni (Chennai Super Kings skipper) should choose to bat or field in the Qualifier 1 against Mumbai Indians, which will be held today at Chepauk stadium, Chennai.
Here's more.
Factors
The question took everything into account: Dew, relative humidity, temperature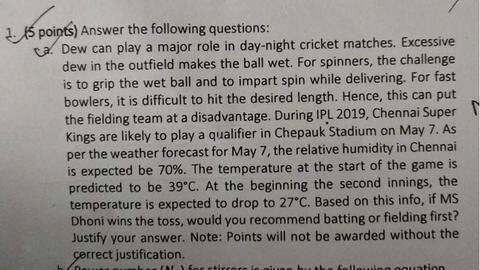 The exam of the BT1020 Material and Energy Balances paper, in which the question was asked, was held yesterday.
It took everything into account: the dew on the ground, the relative humidity in Chennai, weather forecast, temperature, everything.
The question by Professor Vignesh, ended saying, "Based on this info, if Dhoni wins the toss would you recommend batting or fielding first. Justify your answer."
Excitement
Many cricket fans gave the answer on social media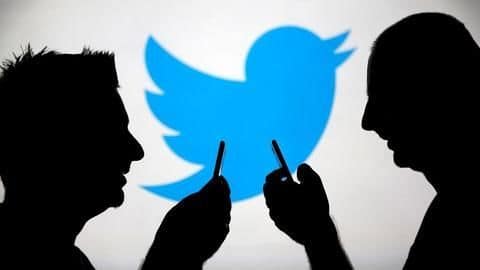 While the 5-mark question upped the coolness quotient of the institute, it got noticed by none other than International Cricket Council (ICC).
ICC, in a tweet, yesterday gave a shout-out to Professor Vignesh, and applauded him "for making exams relevant to important, real-life issues!"
Many cricket fans, who couldn't answer the question, did so on social media, giving proper analysis.
Marks to them too!
ICC gives a shout out to the professor
'Whoever wins the toss will elect (to) field first'
It's obvious whoever win the toss will elect field first. Dew will play crucial role , fielding second will definitely become challenging. Though Chennai has a spinning track , spinners in second inning will be in trouble to control the ball.

Win the toss , win the match.

— Patel Meet (@msp_011) May 6, 2019
This netizen says Dhoni will bowl first
@msdhoni will bowl first as the temperature is 39 in the beginning and in second innings it will drop to 27, hence major chances of due because of 70% humidity as the humid air will turn into water (due) on cold surfaces.

— Durwas Mohite (@DurwasMohite) May 6, 2019
Whichever team wins toss should bat second, says IIT-Madras scholar
As the dew point is around 32 degree Celsius , by the time the second innings starts the dew would have already fallen ...
Hence whichever team wins the toss should bat second !! pic.twitter.com/924JUEW3GB

— The accidental researcher (@vijayathithan) May 6, 2019
Anxiety
The IIT-Madras students will surely be glued to their TVs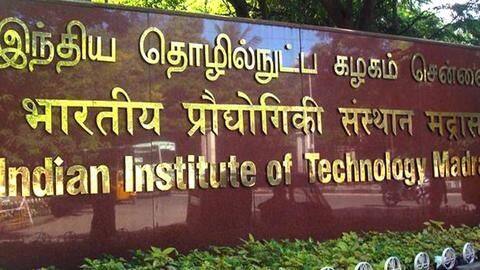 While CSK is led by Dhoni, Mumbai Indians is led by Rohit Sharma.
The teams acquired top two positions in the IPL points table in the 12th edition of the Indian Premier League, and thus will battle it out in the Qualifier 1.
We are sure the students will keep a close eye on tonight's match.
After all, their marks depend on the winner.