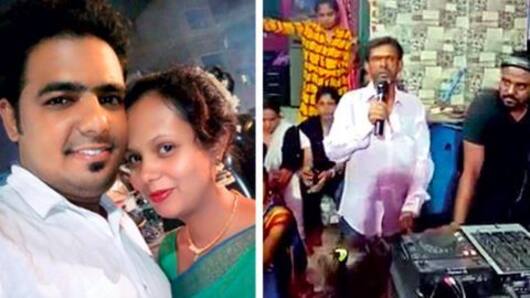 Maharashtra couple faces social boycott after opposing virginity test ritual
A couple belonging to the Kanjarbhat community in Ambernath, Maharashtra, has alleged facing a social boycott after defying the community's regressive tradition of conducting virginity tests on brides over two years ago.
A community leader on Monday allegedly asked people to not attend their grandmother's funeral and threatened them with a penalty if they refused to obey.
Here are more details about the incident.
The couple started campaign against ritual after their engagement
In 2017, Vivek Tamaichikar, following his engagement to Aishwarya Bhat, started a WhatsApp group 'Stop the V-Ritual' to find like-minded people within his community and campaigned against the custom.
The two got married on May 12, 2018, in public defiance of the ritual, wherein a bride is made to prove her virginity — established by bloodstains on a white sheet on the wedding night.
Love India news?
Stay updated with the latest happenings.
Yes, notify Me
Tamaichikar 'ruined the prestige' of the community, says community leader
"I had opposed it (the custom of virginity tests) and had started a campaign against it. Since then, we've been boycotted from community events," Tamaichikar told Mumbai Mirror.
A community leader, Sangam Garuge, allegedly said that Tamaichikar "ruined the prestige" of the community and asked people to boycott the funeral while a wedding ceremony was underway.
A video of Garuge's address is posted online.
Garuge threatened to punish attendees of the funeral
"No one should attend the funeral. Else, they, too, will be punished... It (virginity test) is our tradition. They defamed our community in the country by talking to the media about our customs and rituals," Garuge was quoted as saying in a Mumbai Mirror report.
Another community leader has allegedly demanded an apology from Tamaichikar
Tamaichikar learned about the boycott after a relative shared the video online.
"Our family and neighbors were at the funeral. There was no one else," he said.
According to his brother, Akshay, another community leader said that the others would attend the funeral if Tamaichikar issues an apology.
An FIR has now been registered under Maharashtra's Prohibition of People from Social Boycott Act 2016.
Last year, Bhat had filed a complaint against the boycott
Reportedly, back in October last year, Bhat had alleged facing an incident of social boycotting when a garba event was shut down following her arrival. She had filed a complaint against eight persons at the Pimpri-Chinchwad police station under the Act.
Virginity tests of brides is sexual assault: MoS Ranjit Patil
In February this year, Minister of State for Home Ranjit Patil had said at a meeting with a delegation of some social organizations raising this issue, that people participating in the virginity test ritual would be booked for sexual assault.
Patil had also promised bi-monthly reviews of sexual assault cases by his department and ensured low pendency of such cases in court.