India
Karnataka HM says mass molestations 'do happen' around New Year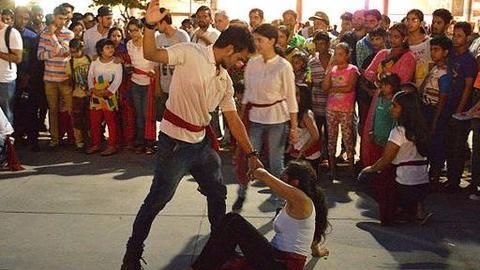 G Parmeshwara, Karnataka Home Minister speaking on the mass molestation in Bengaluru again nonchalantly said 'such incident do happen on New Year day and Christmas'.
He said that even though a 'lot of precautions' were taken such incidents transpire on New Year day and on Christmas.
His claim was backed by the fact that 1600 police personnel had been deployed that night.
In context:
Bengaluru's shame: Mass molestation on the streets
01 Jan 2017

New Year nightmare for the women in Bengaluru
Bengaluru's New Year celebration became a nightmare for numerous women who were allegedly molested at the MG Road and Brigade road.
Even though 1000s of police personnel were deployed, eyewitnesses claimed that women were groped, molested and lewd remarks were passed.
The women who were alone had to seek women police officers who were few in number.
01 Jan 2017

Police claim that there was no security lapse
The Karnataka Police refuted claims of negligence and said that elaborate security arrangements had been made for the New Year eve with approximately 1,500 policemen on duty.
Police said that CCTV cameras were installed and the Karnataka State Reserve Police, City Armed Reserve, and watch towers were erected too.
However, the police was largely outnumbered to restrain the culprits.
Love India news?


Stay updated with the latest happenings.
Despite mass molestation, not a single case filed.

Ironically, despite the photographic evidence and witnesses, the Bengaluru city police claimed that not a "single case of molestation or harassment" had been registered by any women.
02 Jan 2017

HM blames 'western ways', NCW livid-asks him to resign
Home Minister G Parameshwara ruffled feathers speaking to the reporters claiming that the incidents had taken place because "youngsters who are almost like westerners, they try to copy the westerners not only in the mindset but even the dressing."
His comment was reproached by the NCW chairperson.
The NCW said such words from the HM were regrettable and asked him to apologize and resign.
03 Jan 2017

Karnataka HM says mass molestations 'do happen' around New Year
03 Jan 2017

SP's Abu Azmi blames women for molestation
Samajwadi Party's Abu Azmi sparked anger by stating that "women call nudity fashion", and that the Bengaluru molestation incident was caused by women's fashion sense.
He clarified his statements saying "Agar kahin petrol hoga aur aag aaegi to aag lagegi hi, Shakkar giri hogi to cheeti wahan zarur aaegi."
So far, Bengaluru police have not taken action against any of the perpetrators.
Love India news?


Stay updated with the latest happenings.
04 Jan 2017

FIR filed after cops get evidence in Bengaluru molestation case
Bengaluru Police commissioner Praveen Sood stated that "We have registered an FIR thanks to a citizen who came forward with some evidence. Now, we will begin the actual investigation."
He added that based on CCTV footage the police have got credible evidence against several individuals.
He clarified that officers have begun investigating and that action would be taken soon.
05 Jan 2017

6 arrested over Bengaluru mass molestation
Based on CCTV footage, Bengaluru police have arrested 6 people over the mass molestation of women during new years celebrations.
Meanwhile, Home Minister G Parameshwara clarified that his quote had been taken out of context by the media and that he did not speak condescendingly of women.
He said greater focus would be put on recruiting female police officers and constables in the city.
06 Jan 2017

Bangalore molestation: 4 out of 6 arrested
Molestation of a north-eastern woman in Bangalore found a major breakthrough with the city police arresting four out of the six molesters; two are still at large.
The molesters have been identified as Aiyappa alias Nitish Kumar, 19, Leno alias Lenin Patrick, 20, Sudhesh alias Sudi, 20 and Somashekar alias Chinni, 24.
All four are locals and food/goods delivery boys.