India
CIC takes up RTI case on PM's air travels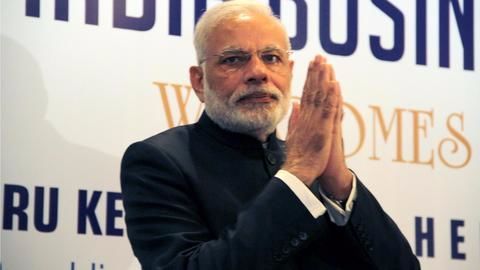 The Central Information Commission will be hearing a case pertaining to disclosure of expenses incurred on the Prime Minister's air travels over the last few years.
PMO officials and concerned officers of the Ministry of External Affairs have been asked to be present at the Chief Commissioner's office.
The case pertains to an RTI inquiry filed by commodore (Retd) Lokesh Batra.
In context:
RTI on PM Modi's air travels
About

RTI application on PM Modi's travels
A Right To Information application had been filed by commodore (Retd) Lokesh Batra who sought details of foreign travel expenditure incurred on Prime Minister Modi as well as his predecessors.
However, information sought under the RTI application was blocked by both PMO and Ministry of External Affairs.
The PMO refused to disclose information citing personal safety and MEA denied information citing security reasons.
Travel expenses pending

During 2015-2016, PM Modi's foreign travels cost Air India Rs.117 crore, an increase of 25% over previous year. PMO's website as on September 2016 reflected that bills for travels undertaken by PM during June 2014-September 2016, were still pending.
Love India news?


Stay updated with the latest happenings.
Details

Reasons for RTI application
Since PM Modi took office he has travelled to over 40 countries.
However, there's a lag in clearing dues of flight charters and expenses are borne by the national carrier Air India.
Lokesh Batra said, "Air India is in deep financial crisis and I wanted to know why it takes so long to clear bills to the national carrier under different regimes."
CIC's instructions

Radha Krishna Mathur, Chief information commissioner had directed PMO officials to peruse files to determine whether there were details in it that rendered them a security concern and if there was any basis for the information to be denied.
04 Jan 2017

CIC takes up RTI case on PM's air travels
10 Jan 2017

No bills for PM's flights on IAF planes
An RTI query filed by Commodore (Retd) Lokesh Batra revealed that the IAF has raised no bills for the PM's travel aboard IAF aircraft.
The IAF stated that the PM "is entitled for free airlift in VVIP aircraft of the IAF. No bill has been raised for such airlifts."
The query was transferred to the MoD which sent it to the Indian Air Force.
Love India news?


Stay updated with the latest happenings.
16 Jul 2017

RTI on Modi and Manmohan Singh foreign trips denied
Another RTI request by Nutan Thakur seeking information on costs incurred in international trips by PM Modi and Manmohan Singh was denied.
The PMO called the query "vague".
Thakur had sought details of the expenditures from January 2010 onwards for making arrangements made for these foreign trips taken by Modi and Singh.
Thakur had demanded all documents exchanged between the PMO and various offices.