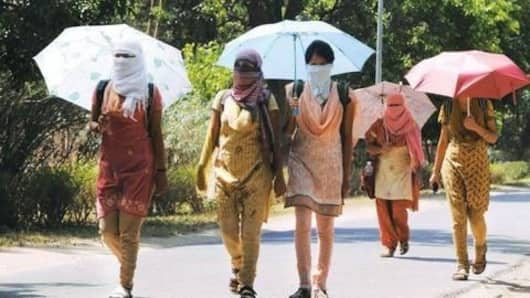 Heatwave scorches Delhi-NCR, other North Indian states; red alert issued
As severe heatwave continues to scorch North India, the India Meteorological Department (IMD) has issued a red alert for the National Capital Region (NCR) and neighboring states.
Issuing a "red category" alert, the weather officials warned people of severe heat conditions.
A CWG village sports complex in East Delhi on Friday recorded 46.6 degrees Celsius - 6 degrees higher than normal.
Here's more.
Red category alert covers these northern states
Apart from Delhi-NCR, the IMD's red category alert covered Punjab, Haryana, Uttar Pradesh, parts of Rajasthan and Vidarbha. A color-coded scale comprising green, yellow, amber, and red (most extreme) is used by IMD to denote the severity of heat/weather conditions.
Heat waves will continue in the plains: IMD official
M Mohapatra, IMD's Director General of Meteorology, said, "North-westerly winds are blowing which are dry and warm."
"There is no weather system that can bring rainfall except for a very feeble western disturbance which may lower temperatures in Jammu and Kashmir and Himachal Pradesh in a couple of days but not in the plains. Heat waves will continue in the plains," he added.
Love India news?
Stay updated with the latest happenings.
Yes, notify Me
We have to issue a red category warning: Mohapatra
"Even if the maximum temperature doesn't rise further in these places (northern states), because the heat is persistent, we have to issue a red category warning," Mohapatra said.
According to IMD's health warning for the red category, there is "very high likelihood" of heat stroke and other heat illnesses for all age groups due to the extreme heat conditions.
People do not pay attention to extreme heat: IIPH Director
"People do not pay attention to extreme heat is because heat-related mortality is neither tabulated nor published. The excess mortality data is not even being analyzed by the administration," said Dilip Malwankar, Director of Indian Institute of Public Health (Gandhinagar).
"IMD has started forecasting heat but cities need to document how heat is affecting hospital admissions and mortality," he added.
Delhi does not have a heat action plan in place
Notably, Gujarat's Ahmedabad has a heat action plan but the national capital doesn't have such a plan; other cities are reportedly preparing such action plan, emulating that of Ahmedabad.
"Ahmedabad has about 700-800 places were water is given, night shelters are open in the day, people don't work at construction sites between 11 am and 4 pm," Malwankar added.