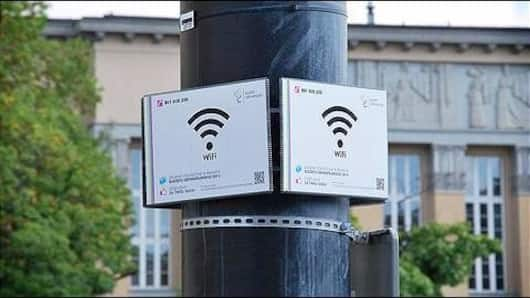 Maharashtra Govt launches Wi-Fi project in Mumbai
The Maharashtra Government implemented a project making Mumbai the first Wi-Fi city of India.
The first phase of the plan has been launched ahead of the Brihanmumbai Municipal Corporation (BMC) elections.
Under the project, wireless internet access across Mumbai at 1,200 locations would be provided through 6,000 MTNL hotspots.
Speeds of up to 20 Mbps (equivalent to 2.5MBps) would be offered.
Mumbai Wi-Fi project's first phase to be formally launched soon
A senior official of the Maharashtra Government stated that they are ready to launch the first phase of the free Wi-Fi project (announced in 2016) at 500 locations; the test run was completed.
He said the only issue is the date, which is yet to be finalized; the formal launch is expected to happen soon.
It was expected to start on 9 January.
Post-free data user charges
The government official stated: "Wi-Fi will be free for users for up to 30 minutes or 1GB. After this, people will have to pay. The rates will be comparative and at par with those of other service providers. We could even charge less than others."
Love India news?
Stay updated with the latest happenings.
Yes, notify me
1,200 hotspots at 500 locations
In the first phase of the project, 1,200 hotspots at 500 locations have been set up.
Key areas are tourist areas like the Gateway of India and Girgaum Chowpatty; other locations include slum pockets where mobile network coverage is uneven.
The first 1GB of data or first 30 minutes of use, whichever happens earlier, would be free and after that charges would apply.
Each access point to cost Rs.2.5 lakh
Credits:
Each Wi-Fi access point had reportedly cost the government Rs.2.5 lakh.
The total cost of the project is estimated to be around Rs.125 crore.
In the second phase, 6,000 more hotspots would be activated at 700 locations by May 2017 and feedback from the first phase would be incorporated.
Larsen and Toubro, which had implemented Mumbai's CCTV surveillance project, has undertaken the project.
Maha CM has kept his promise; Is Delhi CM listening?
In Aug'16, Maharashtra Chief Minister Devendra Fadnavis announced Mumbai would be made a Wi-Fi city by Nov'16.
Despite a two-month delay, he implemented the scheme and kept his promise.
Similarly, before 2015 Delhi Elections, Aam Aadmi Party Convenor, Arvind Kejriwal promised free Wi-Fi to Delhiites.
However, after he came to power, the project - expected to be launched by Feb'16 - couldn't take shape.
An app to help find Wi-Fi hotspots in Mumbai
Maharashtra Government is is launching an application which will help the residents of Mumbai City to detect Wi-Fi hotspots nearest to them.
The app going by 'Aaple Sarkar Mum Wi-Fi' is expected to be launched by next week.
510 hotspots were activated by the Maharashtra government recently, making Mumbai the first Indian city to have Wi-Fi connectivity.