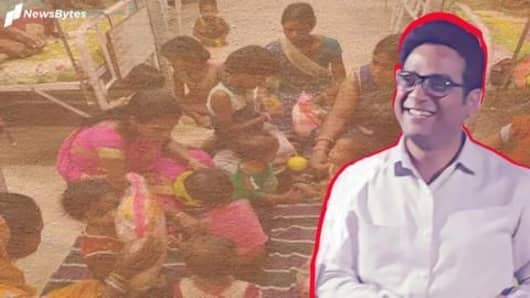 This IAS officer donates his office ACs to malnourished kids
As the extreme heatwave in various parts of India is expected to persist with the delay in monsoon, a district collector in Umaria, Madhya Pradesh, donated his air conditioners to state-run shelters for malnourished children.
However, for the district collector, Swarochish Somavanshi (34), the problems he has to tackle run much deeper to be solved by simply donating ACs.
Somavanshi shifted own ACs to solve immediate requirement
Last week, Somavanshi, a 2012 batch IAS officer, had ACs from his cabin and three from the collectorate halls removed to be installed in four Nutrition Rehabilitation Centers (NRCs). It took 22 hours and helped over a hundred kids, The Better India reported.
Somavanshi said arranging for new ACs would have taken longer, and immediate relief was required as many children had burn injuries.
'Children branded with hot iron as per tribal superstitions'
Speaking to The Times of India, Somvanshi said, "The children are not only malnourished but most of them also have burn injuries from being branded with hot iron according to tribal superstitions. The risk of infection rises with temperature."
Love India news?
Stay updated with the latest happenings.
Yes, notify Me
'Parents justify branding kids, because they went through it too'
Somavanshi brings to light the superstitious tradition of Dagna- where children are branded with hot iron in a bid to treat ailments, in this case, malnutrition.
He told TBI that the parents justified the practice as they went through the same thing and it "worked on them."
So, how does Somavanshi challenge Dagna in a land where quacks are given preference over modern medicine?
How does Somavanshi plan to take on age-old superstitions?
Somavanshi launched Operation Sanjeevani in the first week of May this year to tackle the situation.
His three-tier approach includes filing FIRs against families practising Dagna, spreading awareness among villages, and rewarding ones that choose against iron branding their children to treat them.
"The third step will take time because it has been only a month since Sanjeevani has been implemented," he told TBI.
After Somavanshi's deed, donations of Rs. 5L poured in
Through the initiative, Somavanshi has managed to reach out to 50,000 children in Umaria- which has 80% of rural and tribal population. 673 of those kids have dagna scars.
Villagers have already started checking kids into NRCs for treatment.
Before last week, the local Red Cross Society had Rs. 13,000 for funds- inadequate for installing ACs. Now, the funds amount to Rs. 5 lakh!
Already made plans to revamp the NRCs, says Somavanshi
"After the ACs were shifted, many people donated to the Red Cross fund and in three days we collected Rs. 5 lakh. We have already made plans to revamp the NRCs," he told TOI. His staff also contributed a week's salary to donations, TBI reported.
Here are some other great initiatives taken by Somavanshi
According to TOI, in the past, Somavanshi and his wife, Shalini, helped coach many youngsters in Singrauli district to crack competitive examinations.
He also gathered a bunch of youngsters, called 'Yuwa,' to keep him informed about people's needs and government schemes.
As Seoni district panchayat CEO, Somavanshi also launched a portal and an app to rate government construction projects on quality, rather than quantity.
Who is Swarochish Somavanshi?
Asked 2019-06-12 17:04:14 by Tejas Saxena
Answered by NewsBytes
Swarochish Somavanshi is the district collector of Umaria in Madhya Pradesh.
Which batch of IAS officers is Swarochish Somavanshi from?
Asked 2019-06-12 17:04:14 by Parakram Vyas
Answered by NewsBytes
Swarochish Somavanshi is from 2012 batch of IAS officers.
Why didn't Swarochish Somavanshi just install new ACs in children's shelters?
Asked 2019-06-12 17:04:14 by Harini Pillai
Answered by NewsBytes
Swarochish Somavanshi decided to remove ACs from his own office and halls, as arranging for new ACs would have taken time. He was looking for immediate resolution for the sake of the children in NRCs. Additionally, at the time, the Red Cross society funds only amounted to Rs. 13,000, and no funds were allocated for ACs.
How old is Swarochish Somavanshi?
Asked 2019-06-12 17:04:14 by Cheshta Singhal
Answered by NewsBytes
Swarochish Somavanshi is 34 years old.