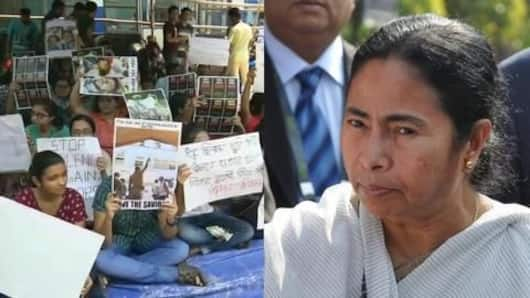 Doctors versus Mamata: What's happening in West Bengal
As the assault on doctors at the Nil Ratan Sircar Medical College and Hospital on Monday escalated into a strike in West Bengal, Chief Minister Mamata Banerjee issued an ultimatum, threatening doctors to resume work.
Doctors went on a strike on Tuesday after relatives of a deceased patient, Mohammad Syeed pelted stones at hospital staff, alleging medical negligence.
Two junior doctors were critically injured.
Banerjee issued 4-hour ultimatum to end strike
On Thursday afternoon, the CM issued a four-hour ultimatum to end the doctors' strike while visiting the state-run SSKM hospital in Kolkata.
NDTV quoted Banerjee as saying, "[Doctors who are protesting] are outsiders. The government will not support them in any way. I condemn doctors who have gone on strike. Policemen die in line of duty but the police don't go on a strike."
Saw an accident victim. He'll die because of protest: Banerjee
"Medical services come under the Essential Services Act and the doctors cannot afford to do such protests," Banerjee told reporters.
"I don't understand medicine, but today I saw an accident victim lying without being attended to. He will die lying there because of the protest. Let good sense prevail or else we will be forced to take action," she added.
Love India news?
Stay updated with the latest happenings.
Yes, notify Me
Further, Banerjee claims doctors' strike is a BJP conspiracy
Banerjee told India Today, "This strike is a BJP conspiracy. Protesters are disrupting medical services. This should end at once." The doctors were protesting an assault on their colleagues and raised "we want justice" slogans.
Banerjee seemingly referred to BJP state chief Dilip Ghosh's statement to The Indian Express: "All anti-social people of one particular community are doing this under police protection."
Is now the time to do politics, Didi?
Series of events: Here's how the doctors' strike transpired
According to The Indian Express, doctors across 13 medical college hospital and at least six district hospitals joined the strike following a "cease-work" protest by junior NRS doctors and interns.
On Tuesday, NRS suspended Out-Patient Departments and Emergency services, as relatives of one Mohammad Syeed (74)- who died at the hospital- alleged negligence.
The relatives assaulted junior NRS doctors, leaving two critically injured.
Following NRS incident, the doctors' strike spread to other hospitals
Thereafter, some other hospitals also joined the strike including Calcutta Medical College and Hospital, Calcutta National Medical College Hospital, R G Kar Hospital, Seth Sukhlal Karnani Memorial Hospital and medical colleges in North Bengal, Murshidabad, Midnapore and Bankura, TIE reported.
Doctors refuse to release Sayeed's body; demand apology
Sayeed was admitted to the hospital on Sunday. However, the family alleged, nobody treated him. They said, he was given an injection and died on Monday evening.
Allegedly 11 relatives assaulted NRS doctors, who then refused to release Sayeed's body, demanding an apology.
Later, a mob- comprising relatives and local residents- stormed the hospital, pelting stones at junior doctors.
Five of Sayeed's family members have been arrested
Reportedly, three FIRs have been filed in connection with the incident.
Separately, the relatives of the deceased lodged a complaint against junior doctors under Section 304 A (death by negligence) at Entally police station. Their neighbors also filed a complaint against the doctors.
Additionally, a third FIR was filed by the hospital administration against Sayeed's family members, five of whom have been arrested.
'Brother critical, where will I go,' asks cancer patient's sister
Meanwhile, thousands of patients across the state await treatment as the doctors' strike continues, another TIE report stated.
Asma Bibi, whose 23-year-old brother is battling cancer, told the publication, "He's critically ill and the OPD is shut. I cannot go elsewhere as I have heard that the OPDs in other hospitals are also closed. If something happens to my brother, where will I go?"
Why are doctors on strike in West Bengal?
Asked 2019-06-13 15:01:55 by Tejas Mehra
Answered by NewsBytes
The doctors' strike in West Bengal began from the NRS hospital, where junior doctors protested an attack on their colleagues by the relatives of a deceased patient.
Why did the patient's relatives attack doctors?
Asked 2019-06-13 15:01:55 by Pari Mistry
Answered by NewsBytes
The relatives alleged that the doctors were negligent in their treatment of the deceased, Mohammad Syeed, which they claim led to his death.
Why were NRC doctors attacked?
Asked 2019-06-13 15:01:55 by Charvi Tambe
Answered by NewsBytes
After Mohammad Syeed's death, the relatives allegedly misbehaved with the junior doctors at NRC. The doctors refused to release the deceased's body until the relatives apologized. Later, a mob of relatives and local residents stormed the hospital and pelted stones at the junior doctors.
Who are the junior doctors critically injured?
Asked 2019-06-13 15:01:55 by Reyansh Gavde
Answered by NewsBytes
Two interns were injured in the violent NRS incident. One Paribaha Mukherjee, who is being treated at the Institute of Neurosciences, and one Yash Tekwani, who was admitted to NRS.