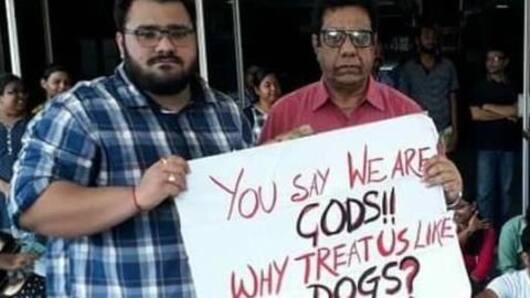 #SaveTheDoctors: While Mamata ignores doctors' demands, her nephew joins protests
It takes a special kind of 'determination' to make the entire bunch of doctors angry and West Bengal CM Mamata Banerjee had done just that.
The Trinamool Chief has turned a blind eye to doctors, who have been protesting after two medicos were beaten in Kolkata.
And, in an interesting turn of events, the agitation against the state government was attended by Mamata's nephew.
Backstory: Unruly mob attacked doctors after an elderly died
Earlier this week, a 75-year-old died at Kolkata's Nil Ratan Sarkar Medical College and Hospital (NRS). His kin blamed "medical negligence" for it and attacked doctors.
One of the doctors, identified as Dr. Paribaha Mukherjee, suffered a serious skull injury and has been battling for his life.
On Tuesday, Bengal doctors went on strike demanding action against culprits. Soon, the fire spread across India.
Mamata gave a deadline to doctors, they defied it
All the doctors have been asking for, is a safe working condition.
Rather than addressing their concerns, Mamata gave the doctors an ultimatum on Thursday.
She visited SSKM Hospital and asked doctors to return to work within four hours or 'face consequences'. She threatened to evict them from hostels too.
Later, she asked doctors to "behead her" but "get back to work".
Love India news?
Stay updated with the latest happenings.
Yes, notify Me
Mamata worsened the situation with her words, blamed doctors
When Mamata visited the hospital, it seemed she would do something to placate the doctors. Instead, she painted them as villains, reminded them about the "oath they took" and asked them to "bring their political masters".
She said Supreme Court declared such protests illegal.
"The state spends Rs. 25 lakh on each doctor's education and they shirk work. This won't be tolerated," Mamata said.
Mamata's nephew participated in protests with a hard-hitting message
Following Mamata's "threat", doctors returned to protests with more anger. And on Friday, Abesh Banerjee (her nephew), who is a medical student, was seen at one of the protests.
He held a placard which read: You say we are Gods!! Why Treat us like Dogs?
Earlier, Shabba Hakim, the daughter of Kolkata mayor Firhad Hakim, also slammed the state government for its apathy.
Ashamed of silence of our leader: Shabba
"As a TMC supporter, I am deeply ashamed at the inaction and the silence of our leader. Please question them that when 2 truckloads of goons showed up and why wasn't a back-up sent immediately? Please question why goons are still surrounding hospitals," Shabba wrote.
On Monday, 3.5L doctors will participate in strike
In this adverse situation, the doctors are standing with one another. The Indian Medical Association (IMA) announced a nationwide strike on Monday, June 17.
Some 3.5 lakh doctors will participate in the strike and no medical facilities will be provided.
"The doctors are asking for security and other minor things, not for the moon. It is doable. We won't back down," IMA's statement read.
Why are doctors protesting?
Asked 2019-06-14 19:03:27 by Aarav Vyas
Answered by NewsBytes
Doctors have been demanding safe working conditions after they were attacked at a state-run government hospital.
Has Mamata Banerjee done anything to calm the doctors?
Asked 2019-06-14 19:03:27 by Ridhi Sarin
Answered by NewsBytes
No. Mamata Banerjee didn't pay attention to the demand of doctors and gave them an ultimatum instead.
Who is Mamata Banerjee's nephew?
Asked 2019-06-14 19:03:27 by Reyansh Singh
Answered by NewsBytes
Mamata Banerjee's nephew is a medical student named Abesh Banerjee.
When will doctors go on nationwide strike?
Asked 2019-06-14 19:03:27 by Aadhya Rodrigues
Answered by NewsBytes
Doctors will go on nationwide strike on Monday, June 17.