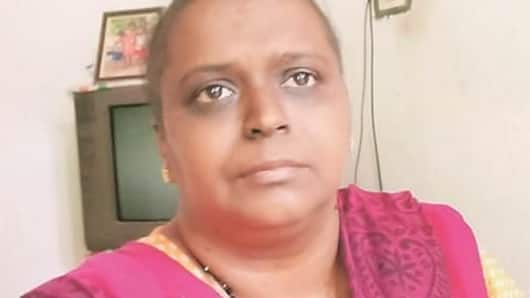 Kerala: Woman misdiagnosed with cancer, still hasn't "recovered" from chemotherapy
A Kerala woman was diagnosed with cancer, she went through chemotherapy, but found out later that she didn't have the deadly disease.
The life of the woman, identified as Rajini, has arrived at an unexpected junction due to mistakes of pathological labs and doctors.
Rajini, who is the sole bread-winner of the family, is now struggling to get back on her feet.
Here's her story.
Rajini got a lump in her breast, went to doctors
The ordeal of Rajini, who lives in Palamel of Alappuzha district, began in February this year. She had a six centimeter-long lump in her right breast, prompting her to visit a doctor.
She went to a local medical facility initially, and later to Kottayam's Government Medical College.
On February 28, Rajini was advised to undergo mammogram test at a private diagnostic center.
Woman went through trucut needle biopsy, tests 'confirmed' cancer
The test revealed malignancy (cancer) in the lump after which Rajini went through trucut needle biopsy, which is done to identify breast cancer.
While one sample was sent to the medical college, another sample was sent to a private lab. The private lab also concluded that the woman had cancer.
After breast cancer was "diagnosed", the case was transferred to the oncology department.
Love India news?
Stay updated with the latest happenings.
Yes, notify Me
Rajini got first course of chemotherapy in March
On March 19, Rajini was given the first course of chemotherapy. After the first bout of the tough treatment, she got results from a pathology department which concluded she didn't have cancer.
"I took the tissue slides and blocks from the private lab and submitted the same with the hospital's pathology department. These tests also ruled out cancer," Rajini told Indian Express.
After seeing fresh results, doctors stopped Rajini's chemotherapy
On April 9, Rajini went for the second round of chemotherapy. However, doctors sent her back without treatment.
She was told her case would be discussed at doctors' conference but even after that, no one told her the outcome.
Rajini said she visited the oncology department thrice to meet the doctor who treated her. But in vain.
Chemotherapy took a toll on Rajini's life
Rajini got herself checked at Regional Cancer Center in Thiruvananthapuram too. The facility also concluded she didn't have cancer.
As Rajini moved from one hospital to another, no one treated the lump. It was finally removed on May 23 after it "got ruptured".
Quite obviously, she suffered from negative effects of chemotherapy like nausea, hair fall, and loss of appetite.
Rajini won't be able to work for another six months
"I lost my health. I have been the only bread winner of the family. I would be able to go for work only after six months," Rajini, who is a divorcee having an eight-year-old daughter, said. She lives with her parents.
Meanwhile, an FIR has been lodged and probe ordered
Rajini's case caught attention after she approached the police. An FIR has been registered.
Kerala Health Minister KK Shailaja said a high-level probe has been ordered and Chief Minister Pinarayi Vijayan promised assistance to the 38-year-old.
Separately, Dr. Ranjin RP, associate professor at medical college, claimed there was no deliberate lapse on the part of doctors and they started treatment after seeing results.
Who is the woman who suffered due to medical negligence?
Asked 2019-06-18 12:04:33 by Hansika Chattopadhyay
Answered by NewsBytes
The woman who was given chemotherapy despite not having cancer was identified as Rajini. She is 38 years old and lives in Kerala.
When did Rajini go to the doctors?
Asked 2019-06-18 12:04:33 by Sai Jindal
Answered by NewsBytes
Rajini went to doctors after she had a lump in her right breast. She was then referred for a couple of tests which misdiagnosed her with cancer.
What did Rajini say on the incident?
Asked 2019-06-18 12:04:33 by Aditya Lobo
Answered by NewsBytes
Rajini said her life has changed and she is suffering due to chemotherapy. Further, she can't even get back to work for another six months.
Have authorities taken any action?
Asked 2019-06-18 12:04:33 by Aanya Verma
Answered by NewsBytes
Yes. An FIR has been lodged and high-level probe ordered.