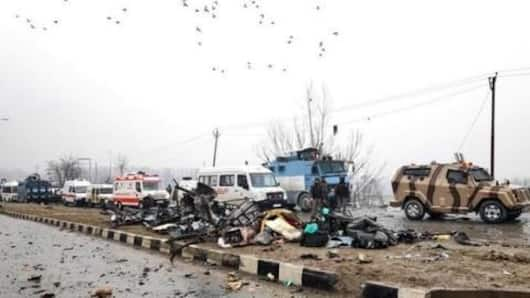 Jaish-e-Mohammed terrorist, whose car was used for Pulwama attack, killed
In what qualifies as a big success for security forces, Jaish-e-Mohammed's Sajad Maqbool Bhat, whose car was used for the deadly Pulwama attack, was killed in a gunfight on Tuesday. Along with Bhat, his recruiter Tauseef Bhat was also killed.
The ferocious battle between forces and the terrorists took place in South Kashmir's Anantnag district. One army soldier was martyred.
Here's what happened.
Backstory: Jaish orchestrated the dastardly attack, 40 soldiers were martyred
On February 14, a CRPF convoy was attacked on the Jammu-Srinagar highway. A Maruti Eeco van, which was driven by Adil Ahmad Dar, rammed into one of the buses, and 40 CRPF soldiers lost their lives.
Subsequently, on the intervening night of February 25 and 26, IAF jets bombed Jaish's camp in Balakot, Pakistan.
The Pulwama attack and Balakot airstrikes strained Indo-Pak relations.
Sajad purchased van ten days before the attack
According to reports, Sajad purchased the Maruti Eeco van on February 4, merely 10 days before the attack.
Sajad, who was a resident of Bhagpora Marhama Bijbehara in Anantnag, went missing on February 22.
Further, Jaish had hired Sajad as an 'overground worker' and he gave information about the movement of security forces too. Sajad and Tauseef were categorized as 'serious threat'.
Love India news?
Stay updated with the latest happenings.
Yes, notify me
Sajad left studies, Tauseef recruited him to Jaish
After his seventh standard, Sajad studied at madrassa Taleem-ul-Islam-in Marhama. Later, he took admission at Marhama's Government Secondary School but fled the institution to join Jaish.
Separately, Tauseef was an undergraduate student who joined Jaish during Ramzan last year. Reportedly, he ran a 'darasgah' or religious outfit, in the evening.
"It is now clear Tauseef had recruited Sajad for Jaish," an official said.
Forces launched a search operation, terrorists opened fire
On Tuesday morning, security forces launched a search operation in Marhama village. The operation turned into a gun battle after terrorists, who were hiding inside a house, opened fire.
"In the ensuing encounter, two terrorists were killed and the bodies were retrieved from the site of the encounter," a release from J&K police read.
A soldier named Anil Jaswal attained martyrdom.
In last seven days, 10 security personnel lost their lives
Separately, two of the nine soldiers, who got injured in a terrorist attack in Pulwama on Monday, succumbed to injuries.
Since June 12, at least 10 security personnel have lost their lives in separate incidents of violence in the valley.
Meanwhile, terrorists threw a grenade at a police station in Pulwama on Tuesday, injuring 10 civilians. Five of them were referred to Srinagar hospital.
When did Pulwama attack happen?
Asked 2019-06-19 10:38:27 by Trishla Rathore
Answered by NewsBytes
The Pulwama attack happened on February 14, 2019.
Who was the terrorist who executed Pulwama attack?
Asked 2019-06-19 10:38:27 by Ananya Pawar
Answered by NewsBytes
The terrorist who rammed his vehicle into the convoy was identified as Adil Ahmad Dar. He was a local resident.
Who purchased the van which was used for Pulwama attack?
Asked 2019-06-19 10:38:27 by Dhruv Jaiteley
Answered by NewsBytes
The van was purchased by Sajad Maqbool Bhat. He was killed in a gunbattle recently.
How many soldiers died in Pulwama attack?
Asked 2019-06-19 10:38:27 by Reyansh Pawar
Answered by NewsBytes
40 CRPF soldiers lost their lives in Pulwama attack, which was orchestrated by Jaish-e-Mohammed.