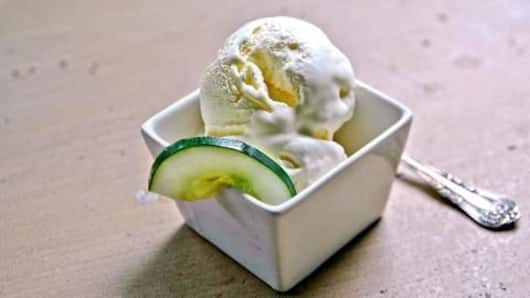 Vegetable ice cream: What's the deal?
Everyone loves ice cream on a hot summer day. And now that the summer has hit the top gear, your heart desires everything cold.
Interestingly, over the past couple of years, a new trend has engulfed ice cream lovers, ie. ice cream with the nutritional goodness of veggies.
Here's all you need to know about vegetable ice creams.
What exactly is in there?
Quite like your favorite Butterscotch, or chocolate, or mango ice cream, the in-trend vegetable ice cream is the same, just that the ice cream/sorbet is made by freezing vegetable juice/soup.
The concept caught up as it lends an added nutritional value to ice creams.
Today, many restaurants have added these vegetable-based ice creams to their menus. And they are quite a hit.
What flavors are we talking here?
Vegetable ice cream comes in many variants. These include beetroot, carrot, ginger, tomato, sweet corn, and just about anything that strikes your mind when you think of a veggie-based ice cream. These ice creams can also easily be prepared at home, like regular ice creams.
Love India news?
Stay updated with the latest happenings.
Yes, notify me
Is it really healthy?
Compared to frozen fruit ice creams, vegetable-based ice creams are surely a healthier option.
They are low on sugar, as compared to chocolate or frozen berry variants.
Additionally, vegetables are loaded with vitamins and essential micro-nutrients, thus adding nutritional value to these ice creams.
Also, their health quotient can be enhanced by using natural sweeteners like coconut sugar and liquid jaggery, instead of sugar.
Swap your regular ice cream with vegetable-based alternative, this summer
Although we're not saying that your health will improve dramatically as you start biting into these vegetable-based ice creams, but they are still way healthier than your regular ice creams. So, switch to them, this summer season, to give a boost to your health.