Mumbai rains: 16 killed, public holiday declared, flights diverted
India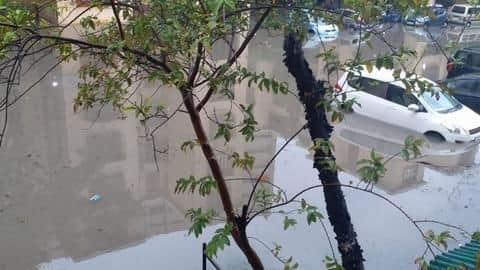 Normal life has come to a standstill in Maharashtra's capital Mumbai and its nearby areas due to incessant rains, forcing the government to declare a public holiday on Tuesday.
Reports suggest at least 16 people lost their lives in rain-related incidents.
Moreover, the India Meteorological Department (IMD) has predicted heavy to extremely heavy rainfall in the city.
Here are the live updates.
Wall collapse
Last night, a wall collapsed in Malad, killed 13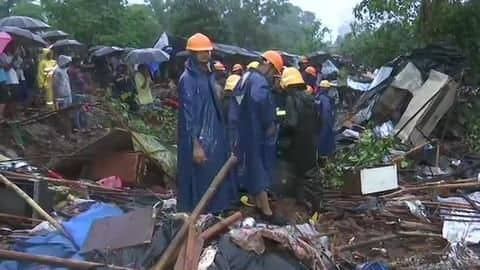 Due to heavy rains, a wall collapsed in Malad East, killing 13 people, and critically injuring several others.
The incident reportedly took place at 2 AM, and authorities believe at least three people are still trapped under debris.
Teams of National Disaster Response Force (NDRF), fire brigade, and police are present at the spot to aid in rescue operations.
Pained by accident, Maharashtra CM announced compensation
Pained to know about the loss of lives in Malad Wall Collapse incidence. My thoughts are with families who lost loved ones prayers for speedy recovery of injured.
₹5 lakh will be given to the kin of deceased.#MumbaiRains

— Devendra Fadnavis (@Dev_Fadnavis) July 2, 2019
Rains
Don't step out unless it's an emergency, advised Fadnavis
Rains have been lashing Mumbai since Sunday as the city received the highest downpour in a decade over a two-day period.
"Due to heavy rain forecast in Mumbai even today by IMD, people are advised to stay indoors unless there is an emergency," said Fadnavis.
Schools and colleges will remain shut and only emergency services will be functional in the city.
We are trying our best, said BMC
Mumbai, we understand it's not been an easy Monday, but it's also been a rain spell like never before - it's the highest in a decade. 550 mm average of entire month of June has been exceeded in just last 48 hrs. We are truly trying our best. We request a bit of caution patience

— माझी Mumbai, आपली BMC (@mybmc) July 1, 2019
Trains
Railways were forced to run trains in limited corridors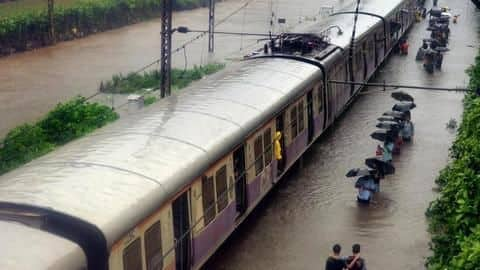 Local trains, which are the lifeline of Mumbai, have also been adversely affected due to the rainfall. Water-clogging on railways tracks prompted Central Railways to run trains in limited corridors.
"Trains will run in CSMT-Andheri-Goregaon section in harbor line. Vashi to Panvel in harbor line. Thane to Vashi and Panvel in trans harbor line. CSMT to Thane Karjat and Khopoli sections," Railways said.
Delay
Stuck in train for hours, passengers hoard eatables
Passengers onboard the Nagpur-Mumbai Duronto (12290) were scheduled to reach their destination by 8:55 AM today. However, due to downpour, the train stopped at a Summit Station near Nashik for more than 2.5 hours.
The ticket collector said there was no confirmation as to when the train will resume its journey.
Anticipating further delay, passengers rushed to a stall and purchased food packets.
Normal life was thrown out of gear
Flights
Further, main runway was shut down, 54 flights diverted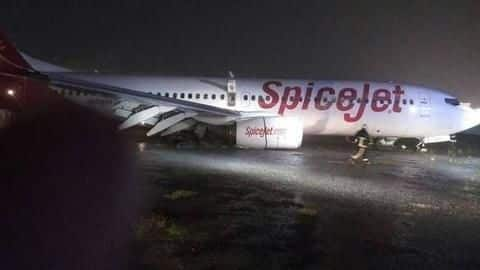 The main runway of Mumbai airport was shut down late on Monday night after a SpiceJet flight overshot its mark while landing. Fortunately, no one was injured and secondary runway is operational.
As many as 54 flights have been diverted to airports like Bengaluru and Ahmedabad.
Airlines like Vistara and IndiGo are updating their social media accounts to inform passengers about delays or cancellations.
Prediction
Meanwhile, IMD has predicted heavy rainfall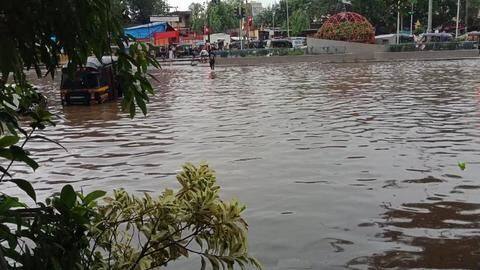 As it turns out, Mumbaikars won't get a respite from rains anytime soon. Giving insight on what to expect on Tuesday, IMD said, "Intense spells of rainfall likely to continue in the districts of Mumbai during next two hours".
The agency also confirmed that clouds were seen over north Maharashtra coast. Apart from Mumbai, south Gujarat and adjoining areas could also be affected.