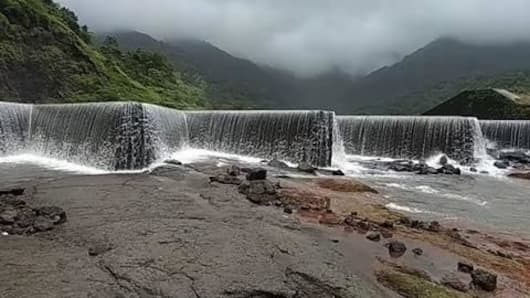 Maharashtra rains: Dam breached in Ratnagiri, 6 dead, several missing
As Maharashtra is coping with heavy rainfall, a small dam called Tiware, located in Tehsil Chiplun of Ratnagiri district got breached on Tuesday night.
Subsequently, six people died and nearly 20 are said to be missing. Though rescue operations are underway, officials fear the death toll could rise.
Moreover, IMD predictions suggest residents won't get respite from rainfall anytime soon.
Here are more details.
12 houses adjacent to the dam were washed away
The dam, whose capacity is 0.08 TMC, got breached around 10 PM causing a flood-like situation in seven downstream villages.
According to police, the dam started developing cracks after Tuesday evening. But before villagers could be alerted or evacuated, the dam developed a rupture, submerging houses.
At least twelve houses, just next to the dam, were washed away.
NDRF teams reached spot, bodies of two males were recovered
Subsequently, an NDRF team stationed in Sindhudurg district was rushed to the spot. A team of 5th Battalion of the NDRF was also sent to aid in rescue operations.
As per reports, bodies of two males were recovered on Wednesday morning.
Teams of police, district disaster management cell, fire brigade have been pressed into service to look for missing people.
Love India news?
Stay updated with the latest happenings.
Yes, notify me
Earlier, a wall collapsed in Mumbai, 23 people died
Separately, Maharashtra's capital Mumbai remained paralyzed for a third consecutive day due to heavy downpour.
In the wee hours of Tuesday, a wall of an educational institute collapsed in Malad, killing 23 people and injuring 78 others.
Those who died in the distressing incident were laborers staying in shanties. District Collector Naval Kishore Ram said a probe into the incident has been ordered.
In Thane, two waiters died due to electrocution
Among other casualties, two waiters, identified as Virendra Dasu Buniya and Rajan Das, died due to electrocution when rainwater entered their hotel.
"Passing trucks forced water into the hotel's kitchen, leading to the refrigerator there catching fire. When the two went to check the damage in the kitchen, they were electrocuted," said Thane Rural police spokesperson Yuvraj Kalkutage.
A case has been registered.
Mumbai will receive intermittent showers today, predicted IMD
Mumbai has already received its highest rainfall in 10 years, throwing normal life out of the gear. On Tuesday, the state government declared a public holiday and asked people to stay indoors. Meanwhile, IMD predicted that the city will receive intermittent showers on Wednesday.
Which dam was breached in Ratnagiri?
Asked 2019-07-03 10:50:08 by Anonymous
Answered by NewsBytes
A small dam called Tiware was breached in Maharashtra's Ratnagiri district on Tuesday.
Why were villagers not informed about the danger?
Asked 2019-07-03 10:50:08 by Anonymous
Answered by NewsBytes
The dam started developing cracks on Tuesday evening, but before the villagers could be informed it got ruptured.
How many villages were affected?
Asked 2019-07-03 10:50:08 by Anonymous
Answered by NewsBytes
Due to the breach, a flood-like situation was developed in seven downstream villages.
Will Mumbai receive rainfall today?
Asked 2019-07-03 10:50:08 by Anonymous
Answered by NewsBytes
Yes. IMD has predicted intermittent rainfall in Mumbai today.