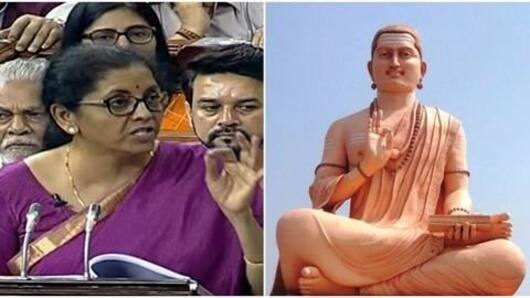 Who's Lord Basaveshwara, quoted by Nirmala Sitharaman in Budget speech
As she presented her maiden Union Budget on Friday, Finance Minister Nirmala Sitharaman drew upon wisdom from India's past, quoting Swami Vivekananda, Mahatma Gandhi and even the ancient philosopher Chanakya.
She also happened to refer to Lord Basaveshwara several times, drawing from his teachings to underline the Modi government's philosophy.
Have you been wondering who Lord Basaveshwara is? Let us help you.
Lord Basaveshwara was a social reformer born in 12th century
Lord Basaveshwara is a 12th Century Kannada social reformer, poet and philosopher, who is considered as one of the most revered saints by the Lingayat sect. Reports suggest he was born in 1131 AD in Bagevadi (now in Bijapur, Karnataka) to a Brahmin family.
Basaveshwara believed in caste, creed, class, gender equality
Lord Basaveshwara, or Basavanna, worked towards uplifting the underprivileged classes and women, and believed that all humans are equal, irrespective of class, caste, creed, and gender.
It is said he denounced the sacred janeu thread- worn by upper-caste Hindus, particularly Brahmins- at a young age in hopes to transform himself and achieve spiritual bliss.
Through his teachings, he revolutionized Indian society.
Love India news?
Stay updated with the latest happenings.
Yes, notify me
Basaveshwara popularized principles of 'Kayakave Kailasa' and 'Dasoha'
Basaveshwara spread his teachings through poetry (Vachanaas).
He denounced superstitions and rituals, introducing an Ishta linga necklace, bearing a shiva-linga image, to mark equality.
He also introduced a hall of spiritual acceptance, Anubhava Mantapa, where people of all origins could ask spiritual and mundane questions of life.
Basaveshwara popularized the principles of Kayakave Kailasa (work is worship) and Dasoha (giving back to society).
Sitharaman says PMKVY scheme draws from 'Kayakave Kailasa'
In her speech, Sitharaman referred to Basaveshwara, saying, "Implementing Kayakave Kailasa, the government enables about 10 million youth to take up industry-relevant skill training through the Pradhan Mantri Kaushal Vikas Yojana (PMKVY)."
Quoting Dasoha, she added, "'Give It Up' for giving up LPG subsidy or the various pension schemes are on the principle of sharing through distribution, for the wellness of the society."
Modi inaugurated Basaveshwara statue in London in 2015
Interestingly, back in May, on the occasion of Lord Basaveshwara's birth anniversary, Basava Jayanti, Prime Minister Narendra Modi had posted a tweet honoring him. In 2015, he had also inaugurated a Basaveshwara statue on the bank of river Thames in London, United Kingdom.
Basaveshwara worked to make society more inclusive: Modi
Paying homage to the venerable Bhagwan Basaveshwara on his Jayanti. An iconic thinker and pioneering social reformer, Bhagwan Basaveshwara worked throughout his life to make our society more inclusive. His emphasis on education and serving the poor continues to motivate millions.

— Narendra Modi (@narendramodi) May 7, 2019
Who is Lord Basaveshwara?
Asked 2019-07-05 19:58:17 by Ajay Jhadav
Answered by NewsBytes
Lord Basaveshwara 12th Century Kannada social reformer, poet and philosopher.
When was Lord Basaveshwara born?
Asked 2019-07-05 19:58:17 by Ananya Subramanium
Answered by NewsBytes
Lord Basaveshwara is believed to have been born in the year 1131 AD.
What was Lord Basaveshwara's philosophy?
Asked 2019-07-05 19:58:17 by Arnav Mittal
Answered by NewsBytes
Lord Basaveshwara believed in equality among people from all socioeconomic backgrounds. He also popularized the ideologies of Kayakave Kailasa (work is worship) and Dasoha (giving back to society).
Who is Nirmala Sitharaman?
Asked 2019-07-05 19:58:17 by Pari Banerjee
Answered by NewsBytes
Nirmala Sitharaman is the current Minister of Finance in India.