Road accidents killed 148,000 people in 2015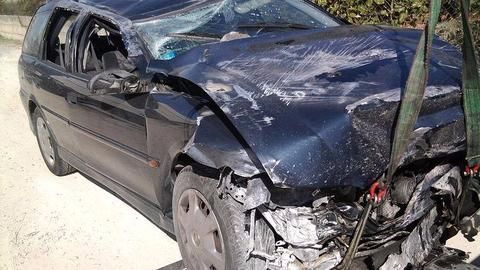 As many as 148,000 people were killed in road accidents in 2015, a 9% increase over five years, according the Accidental Deaths and Suicides in India report released by the National Crime Records Bureau (NCRB).
Road accidents accounted for 43% of all accidental deaths in 2015, an analysis by IndiaSpend, India's first data journalism website, has revealed.
In context
Road accident deaths
Shocking!
Three people died every 10 minutes from road accidents in India in 2015. India loses 1-3% of its GDP due to road accidents, a Planning Commission report had found in 2007.
Accidents rising
UP has India's deadliest roads, Tamil Nadu - most accidents
As many as 464,000 road accidents took place nationwide in 2015, a 3% increase from 2014, when 450,000 road accidents were registered.
Tamil Nadu (69,059), Karnataka (44,011) and Maharashtra (42,250) reported the most road accidents in India in 2015.
Nearly one-eighth (18,407) of India's total road accidents deaths took place in Uttar Pradesh.
Love India news?
Stay updated with the latest happenings.
Notify Me
Driving rules exist but poorly enforced
India's enforcement was rated 3 out of 10 on speed limits, 4 out of 10 on wearing motorcycle helmet, 4 out of 10 on drunk-driving and 4 out of 10 on wearing seat belts, by the World Health Organization.
45,540 killed
Two-wheelers most unsafe
29% of all fatal road accidents in 2015 involved two-wheelers, killing 45,540 people. Trucks, which killed 28,910 people (19%) were second deadliest followed by cars which claimed 18,506 lives (12%).
Tamil Nadu (3,668) and Maharashtra (3,146) recorded the highest number of two-wheeler accident deaths.
UP reported most deaths from truck (5,720) and car accidents (2,135).
Most pedestrian deaths were recorded in Maharashtra (1,256).
Over-speeding biggest killer on Indian roads
Over-speeding caused 41% of road accident fatalities, followed by dangerous driving (32%), poor weather (4%) and mechanical defects (3%) in vehicles.
26 Feb 2017
30% increase in road accidents on Yamuna Expressway since 2015
An RTI query has revealed that as compared to 919 accidents in 2015, 1,193 took place on the Yamuna Expressway in 2016, registering an increase of 30%.
However, fatalities reduced by 9%, from 142 to 128.
Since its opening in August 2012, 548 people have died in 4,076 accidents on the Yamuna Expressway. 33 people died in 294 accidents in the first six months.