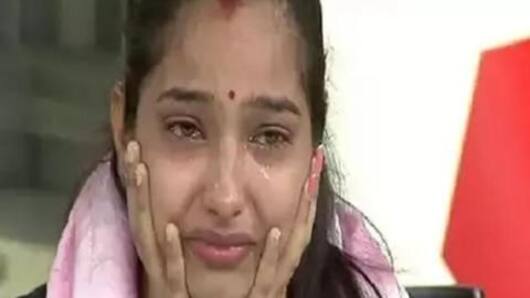 UP: Husband of BJP MLA's daughter, who posted video, beaten
Monday started on a terrible note for Sakshi Misra, who is the daughter of BJP MLA from Bareilly, Rajesh Misra. Sakshi's husband Ajitesh Kumar was beaten by unknown miscreants outside Allahabad High Court, where they arrived to seek protection.
To recall, Sakshi had posted a video last week alleging threat from her family as she married a Dalit man against their wishes.
Here's more.
A bit about the sensational case which kept media busy
23-year-old Sakshi created an uproar when she slammed Rajesh. Asking her father to change his "mentality", she underlined she married Ajitesh willingly.
She claimed Rajesh "sent his goons" and added that her father would be responsible if anything happens to Ajitesh or her in-laws.
Meanwhile, Rajesh said he disapproved of their wedding due to age-gap and Ajitesh's poor income, and not caste.
After viral videos, couple knocked on Allahabad HC's doors
In the video, which went viral quickly, Sakshi sought help from authorities. She said their life was in danger, and Ajitesh concurred.
Sakshi, who married on July 4, also appeared on several news shows to narrate the harassment they faced.
On Thursday, the couple filed a plea in HC seeking protection to "live a peaceful life". The matter came up for hearing on Monday.
Love India news?
Stay updated with the latest happenings.
Yes, notify me
Here is her video
BJP MLA from Bareilly, Rajesh Kumar Mishra alias Pappu Bhartaul's daughter has married a man of her choice. The BJP MLA is now after their life, has sent goons. His daughter has released this video requesting help! @Uppolice

Source: @saurabh3vedi

pic.twitter.com/MLa9Sr13aA

— Gaurav Pandhi गौरव पांधी (@GauravPandhi) July 10, 2019
Ironically, Ajitesh was thrashed while police "protected" him
However, before Sakshi and Ajitesh could enter the courtroom, the latter was thrashed.
What's more shocking is that the incident happened while they were in "police protection".
"Only Ajitesh was beaten up. It is not known who these people are, but it proves there is indeed a threat to their life for which they are seeking protection," their lawyer SN Naseem said.
Calling their marriage 'valid', court asked police to protect them
Expressing anger over the incident, the Allahabad HC asked police to give proper protection to the couple. The court also directed authorities to give security to Sakshi and Ajitesh when they travel. Reportedly, the court also noted that their marriage was valid.
Separately, another runaway couple was abducted at gunpoint
Notably, HC premises witnessed another high-end drama, after a couple, who also sought police protection, was abducted at gunpoint.
Soon, media reports suggested the kidnapped couple was Sakshi and Ajitesh, but the rumors turned out to be false.
The woman was identified as Ruby (of Amroha district), who was about to marry Moradabad resident Shamim Ahmed.
Later, the couple was found in Fatehpur district.