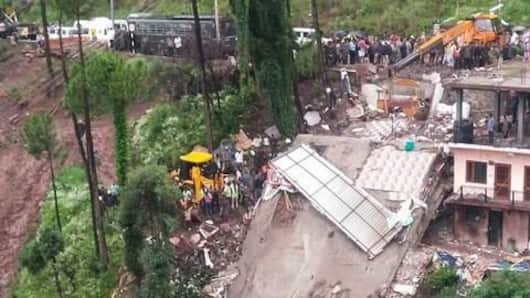 Solan: Multi-story building, which collapsed, was once a two-room structure
On Sunday, a four-story building collapsed in Himachal Pradesh's Solan, killing 14 people, including 13 army personnel, and raising pertinent questions on poor infrastructure dotting hill stations.
Now, an Indian Express report has revealed that the ill-fated building was once just a two-room structure.
As years passed, the owner built more floors, setting the stage for the tragedy.
Here's what we know so far.
Context: Soldiers went for lunch, building collapsed, several died
The building, Sahaj Tandoori Dhaba, was operational since 2010. Located at Runan Ghoro village, it housed a guesthouse and a dhaba.
Reportedly, jawans belonging to the Dagshai cantonment had just entered for lunch when suddenly the floor housing the dhaba started shaking.
Before anyone could realize what happened, the building fell like a house of cards.
The owner's wife was among those who died.
Building's construction shows the tragedy was waiting to happen
Apparently, the building's top floor had four rooms, and in two of them, owner Balbir Singh alias Sahil lived with his family.
The eating joint operated from the lower portion. He also built two-three rooms below the eating joint.
If locals are to be believed, the structure came down because Singh kept constructing floors on the same foundation which could only sustain two rooms.
Love India news?
Stay updated with the latest happenings.
Yes, notify me
Meanwhile, local said such structures are common in the area
"Singh had recently rented out the lower portion of the building to a Patiala resident on lease period of 11 months. There was nothing unusual. We have seen here so many triple-story buildings being constructed overnight. We did not expect this tragedy," a local said.
Singh, who lost his wife, claimed there was nothing illegal
However, Singh had a different story to tell. He said there was nothing illegal about the construction and he was getting the job done at a slow pace.
He revealed he bought the land for commercial and residential purposes in 2010.
"If the building was weak, do you think I would have been staying with my entire family on the top floor," he asked.
Facing heat, Singh blamed another construction for collapse
After the tragedy, Singh was booked under IPC Section 336 (act endangering life or personal safety of others) and 304A (causing death due to negligence).
However, he feels he isn't responsible for it.
According to Singh, a construction which was happening close to his building is to be blamed. He said heavy equipment was being used for construction which affected his building's foundation.
Construction coupled with heavy rain led to tragedy: Singh
"Heavy machines, including JCB and trucks, used to pass by my building. I am sure the heavy vehicles made an adverse impact on the slope and the recent heavy rain weakened the foundations of my building," Singh told the daily.
Apparently, Singh should have informed tourism department about construction
Meanwhile, local tehsildar (revenue officer) Gurmeet Negi, said the building was nestled in the rural area, hence, didn't come in the jurisdiction of Municipal Council.
"We will have to see if Balbir Singh informed about the construction of his eating joint along with rooms, which was being rented out to people for short stays, to the state tourism department," Negi added.
Separately, others opined state government should wake up now
"Things have changed over the years. People from the other states come here and run their businesses, especially in hotel and tourism industry, without following any rules. This tragedy should be an eye-opener for the state government," Aruna Jaiswal, who runs Misty Meadows Resort, said.
When did the building collapse in Solan?
Asked 2019-07-16 20:28:34 by Shaurya Bose
Answered by NewsBytes
A four-story building collapsed in Solan on Sunday, July 14.
How many people died in the building collapse incident?
Asked 2019-07-16 20:28:34 by Vivaan Rangarajan
Answered by NewsBytes
14 people, including 13 armymen, died in the incident. The building owner's wife also passed away.
Who owned the building?
Asked 2019-07-16 20:28:34 by Aradhya Mistry
Answered by NewsBytes
The building was owned by a man named Balbir Singh.
Has any action been taken against Balbir Singh?
Asked 2019-07-16 20:28:34 by Diya Rao
Answered by NewsBytes
Yes. Balbir Singh was booked under IPC Section 336 (act endangering life or personal safety of others) and 304A (causing death due to negligence).