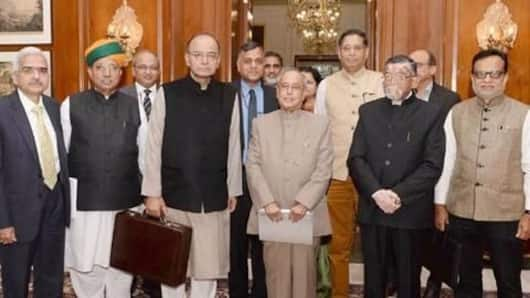 Budget 2017: How budget would impact you?
The Modi government's fourth Budget may not have been the big-bang populist budget everyone expected after demonetization.
However, it did bring cheer to many, especially with its focus on railway safety, affordable housing, tax slabs and rates, and a partial alteration in indirect taxes.
In this timeline, we highlight some of the ways Budget 2017 would impact you.
The good news…and the bad
These things got cheaper - Rail e-Tickets, solar panels and cells, LED lamps/bulbs, liquefied natural gas, hot rolled coils, POS credit/debit card reader and micro ATMs, finger-print machines and iris scanners.
And, the things which became expensive are - Mobile phones, silver coins, cigarettes and tobacco, paper rolled bidis, pan masala, goods imported through parcels, cashew nuts and water filter membranes.
Tax rate for income upto Rs.5 lakh slashed by 5%
Jaitley proposed reducing rate of taxation for individuals having income tax between Rs.2.5 lakh to Rs.5 lakh from 10% to 5%.
Simple one-page tax filing form will be introduced for people with taxable income under Rs 5 lakh.
Tax payers in all other slabs will get a uniform benefit of Rs. 12,500.
Love India news?
Stay updated with the latest happenings.
Yes, notify Me
No increase in rail fares, focus on safety
No increase in railway fares were announced. A rail safety fund having a corpus of Rs.100,000 crore will be created.
Service charges will be withdrawn on railway e-tickets.
'Coach Mitra', a single-window interface to register coach-related complaints and requirements will be launched.
25 stations would be redeveloped while 500 stations will be made disabled-friendly by adding escalators and lifts.
Cash flow increasing, lending rates drop, digital economy gathers steam
Jaitley said the pace of remonetization has picked up and will reach comfortable levels.
He said there is evidence that the banking system's post-demonetization surplus liquidity is helping lower lending rates and increasing credit access.
The digital economy received a push with 125 lakh people adopting the BHIM app so far. A referral bonus and cashback scheme will be launched to promote BHIM's usage.
Passports more accessible, affordable housing incentivized
The government decided to use Head Post Offices as front offices for rendering passport services to help those living in remote areas to obtain passports and redress grievances.
In a boost to affordable housing, the scheme for profit-linked income tax deduction will consider carpet area, not built-up area, of 30 and 60 Sq.mtr.
Senior citizens will get Aadhaar-based smart cards containing their health-details.