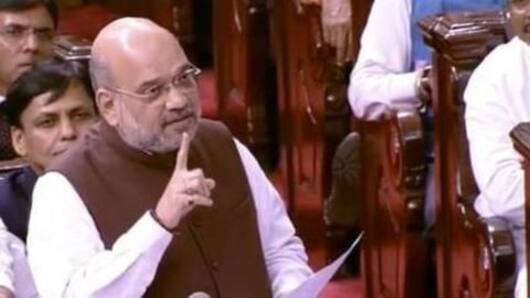 Article 370 scrapped: Rajya Sabha passes J&K Reorganisation Bill
In a big win for Prime Minister Narendra Modi led Centre, the J&K Reorganisation Bill 2019, was passed in Rajya Sabha on Monday.
It sought to bifurcate the state of Jammu and Kashmir into two Union Territories, namely J&K and Ladakh. 125 MPs voted in favor of the Bill and 61 against it.
This came hours after Centre revoked Article 370 of the constitution.
Shah reminded Article 370 was a "temporary solution"
Defending the Bill, Shah listed all the reasons why Article 370 should not be a part of the constitution anymore.
He reminded the article, which granted special status to J&K, was introduced as a "temporary provision".
Shah said the contentious article bred terrorism in the valley, promoted corruption, and ensured locals remain far away from development.
Interestingly, J&K will not remain a UT "forever"
In yet another major announcement, Shah said J&K will not always remain a Union Territory.
"I want to assure them when the situation gets normal & the right time comes, we're ready to make J&K a state again. It may take a little longer, but it will become a state once again, one day," Shah said, addressing concerns of opposition parties.
Love India news?
Stay updated with the latest happenings.
Yes, notify me
What does this Bill propose?
Ladakh will be governed by Lieutenant Governor alone and will include districts of Leh and Kargil. The remaining territories will remain with J&K. Further, out of six Lok Sabha seats of J&K, five will remain with J&K Union Territory, and one will go to Ladakh.
President will appoint L-G, Centre's advisors will assist him
Moreover, Bill underlines that both the UTs will have a common Lieutenant Governor. Satya Pal Malik, who is the governor of J&K, will handle the role for the time being "for such period as may be determined by the President of India".
Additionally, the Bill states President will appoint L-G under article 239. Advisors appointed by Centre will assist L-G.