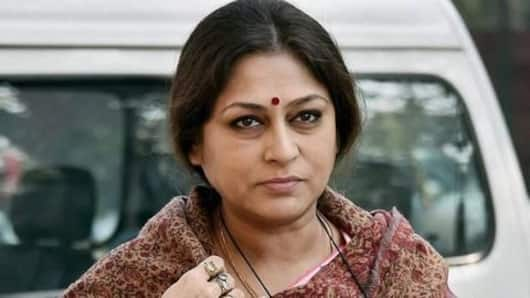 BJP MP Roopa Ganguly's 'drunk' son rams car, arrested
On Thursday, BJP leader and actress Roopa Ganguly's son Akash Mukhopadhyay, rammed his car into a wall of an upscale club in Kolkata, prompting police to arrest him.
Locals alleged that Akash, who is 20 years old, was driving in an inebriated state at a breakneck speed.
Police conducted a medical examination to confirm whether Akash was drunk or not.
Here's what happened.
While taking U-turn, Akash rammed car into wall
According to PTI, the incident took place at night when Akash was taking a U-turn. He hit his black sedan into the wall of Royal Calcutta Golf Club in the upscale Golf Garden area.
The car crashed a portion of the boundary wall which it hit.
To note, many people had a close shave and narrowly escaped being hit by the vehicle.
It's sheer luck no one died: Area Councilor
About the accident, a local told HT, "The vehicle was moving very fast. We suspect the person at the wheel could have been in an inebriated state."
Separately, area councilor Archana Sengupta said it was sheer luck that no lives were lost.
"Locals told me that two children were playing and a few youths were chatting close by when the car crashed," Sengupta added.
Love India news?
Stay updated with the latest happenings.
Yes, notify Me
Further, locals claimed Akash has a habit of rash driving
"The person driving the car (Akash) also escaped unhurt. The front of the vehicle was completely destroyed. Locals were enraged after the accident. They told me that he has a habit of driving very fast," Sengupta went on.
Akash has been arrested for reckless driving, police reportedly said
Akash, who was alone and suffered minor injuries, came out of the car with the help of his father, who reached the site on hearing the uproar.
Police said Akash has been arrested on charges of driving dangerously. Reports claimed he was arrested from a friend's house and will be produced at Alipore court on Friday.
Akash may face severe punishment under new laws.
Later, Ganguly tweeted about accident, said law should take course
In a late-night tweet, Ganguly spoke about the accident. The 52-year-old, who joined BJP in 2015 and was nominated to Rajya Sabha a year later, said her son met with an accident.
She said she loves her son but the law should take its course.
Tagging PM Modi, she wrote, "I don't commit any wrong, neither do I tolerate one. I am not up for sale."
What sort of political rubbish is this, asked Ganguly
How funny.. i spoke to him in the afternoon.. discussed about his lunch and other basic things at 3pm.. now i get to hear such stupid comments by the media. He just left this morning by 7.50 flight.. what sort of political rubbish is this ? https://t.co/iVxX6xDnJs

— Roopa Ganguly (@RoopaSpeaks) August 15, 2019
Who is Roopa Ganguly?
Asked 2019-08-16 11:01:45 by Navya Mehra
Answered by NewsBytes
Roopa Ganguly is a BJP leader and actress, most famous for her role as Draupadi in BR Chopra's Mahabharata.
When did Roopa Ganguly join BJP?
Asked 2019-08-16 11:01:45 by Pranav Rangan
Answered by NewsBytes
Roopa Ganguly joined BJP in 2015.
When was Roopa Ganguly nominated to Rajya Sabha?
Asked 2019-08-16 11:01:45 by Parakram Mistry
Answered by NewsBytes
Roopa Ganguly was nominated to Rajya Sabha in 2016.
What is the name of Roopa Ganguly's son?
Asked 2019-08-16 11:01:45 by Harini Rodrigues
Answered by NewsBytes
Roopa Ganguly's son is named Akash Mukhopadhyay.