India
Panneerselvam steps down as CM for the third time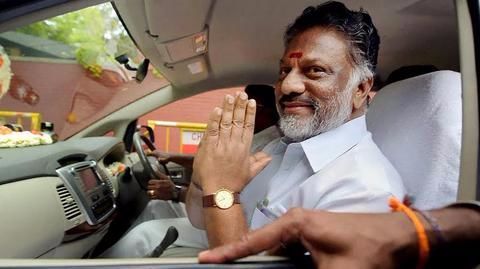 O Panneerselvam has stepped down as Tamil Nadu's Chief Minister for the third time.
On Sunday, Panneerselvam sent a letter of resignation to Vidyasagar Rao, Tamil Nadu's governor, stating that he was resigning due to "personal reasons."
Panneerselvam first took up Chief Ministerial duties in 2001, when Jayalalithaa was barred by the SC from holding the position.
In context:
O Panneerselvam: Tamil Nadu's loyalist
Early career

Paneerselvam: Jayalalithaa's right hand since 2001
Panneerselvam made his entry into politics in 1996 becoming the chairperson of Periyakulam municipality in the Theni district.
He fought Assembly elections in 2001 for the first time from Periyakulam, becoming the PWD minister.
Since 2001, he served as a minister in all AIADMK regimes.
He has held important portfolios like Finance and Public Works and Prohibition and Excise.
Jayalalitha loyalist

Jayalalithaa's most loyal supporter
OPS or O Pannerselvam has been a staunch Jayalalithaa loyalist and hence always been favoured.
Not only did he cry while taking her place in 2014, he even conducted prayers for his jailed leader at Sabarimala for her return.
When he took over as the CM in 2001 and 2014 he refused to sit on Jayalalithaa's chair.
Love India news?


Stay updated with the latest happenings.
Panneerselvam "too loyal" according to some

Whenever Panneerselvam has had to conduct cabinet sessions for former CM Jayalalithaa, he has never done so without her photograph on his desk. He also has a picture of her in his car dashboard, and one that he always carries in his front pocket.
05 Dec 2016

Tamil Nadu loses its beloved Amma
The Iron Lady Actress or the beloved Amma of Tamil Nadu- chief Minister Jayalalithaa died in Apollo Hospitals in Chennai.
She had been hospitalized for 73 days and died after succumbing to a cardiac arrest.
She had served 3 terms as the Tamil Nadu CM, the current being her 4th stint.
She was declared dead at 11:30 pm. She was 68.
06 Feb 2017

Panneerselvam steps down as CM for the third time
08 Feb 2017

Panneerselvam berates AIADMK, Sasikala
Tamil Nadu caretaker CM O Panneerselvam stoked controversy by stating that he was forced to resign as Chief Minister by the AIADMK and VK Sasikala.
After Panneerselvam said he could withdraw his resignation, questions arose over Sasikala's swearing-in with speculation that President's rule could be implemented in the state.
Meanwhile, the opposition DMK has urged the governor to intervene in the matter.