India
Andhra Pradesh Speaker compares women to parked cars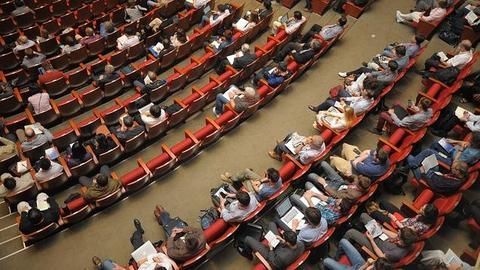 AP Assembly Speaker KS Prasad Rao while addressing the press ahead of 'National Women's Parliament' event compared women to parked cars.
He was speaking with regards to harassment and discrimination women face and made a statement "women would not be raped if they were parked at home like cars".
His comments caused massive outrage and although he tried to backtrack, he didn't succeed.
In context:
Andhra Pradesh Speaker's offensive comments on women
National Women's Parliament

Andhra Pradesh government is hosting a three day event called 'National Women's Parliament' which will be attended by 10,000 female delegates from across the country and will include businesswomen, influential personalities and

politicians

like MLAs and MPs.
11 Feb 2017

Andhra Pradesh Speaker compares women to parked cars
Love India news?


Stay updated with the latest happenings.
Speaker Rao was speaking about women empowerment and the increasing incidents of crime against women.
Rao observed that in older times women were housewives and remained very protected but since now women worked and studied they were eve-teased, harassed, raped etc.
He added that just like cars when parked at home, accidents were avoided but when taken out or speeding, accidents were very likely.
How

Speaker Rao attempts to backtrack
Speaker Rao after comparing parked cars and housewives realized his comments could be misunderstood and he tried to clarify.
He said he wasn't suggesting women should stay at home or they shouldn't be educated and allowed to work but instead be taught self-defence and that "we should give them confidence."
However he didn't succeed since there was massive outrage on Twitter over his remarks.
Second time in a week

Few days ago, Swati Deshpande, principal of Mumbai-based polytechnic institute said women wearing pants have hormone disorders and lose their natural urge to reproduce. Her statement invited incredulity and hashtag #DressLikeAnIndianWoman trended on Monday.