India
Gurmehar Kaur deletes her Facebook account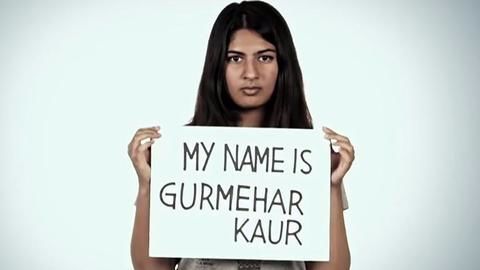 Gurmehar Kaur, a student of Delhi University who shot to fame last week for her retaliation against ABVP, has deleted her Facebook account.
According to her, things were blown out of proportion. She said she just gave her opinion.
The 20-year also alleged that she moved from Delhi after receiving several trolls and rape threats.
She's protected by a lady constable from Jalandhar police.
In context:
Of Gurmehar, trolls and intolerance!
24 Feb 2017

An LSR student starts another political storm
Gurmehar Kaur, 20, a student from LSR New Delhi, stirred a political storm when she posted a picture to condemn the violence at Ramjas College last week.
Her post read: "I am a student of Delhi University. I am not afraid of the ABVP."
Her previous video saying "Pakistan didn't kill my father. War did" surfaced and gave the debate an anti-national tinge.
A martyr's daughter or a political pawn?

Gurmehar Kaur lost her father Captain Mandeep Singh in the 1999 Kargil War. She was 2 at the time. She was compared to 'Dawood Ibrahim' for he was a son of a cop too and an anti-nationalist.
Love India news?


Stay updated with the latest happenings.
27 Feb 2017

Sehwag, Hooda and Dutt trolled for making fun of Gurmehar
Virender Sehwag tweeted a picture of him in a similar style as Kaur's saying: "I didn't score two triple centuries, my bat did."
The controversy became even more heated as Yogeshwar Dutt and Randeep Hooda stood by Sehwag.
While some cheered Sehwag's tweet as a witty remark, others branded them as "chauvinist and bullies, sexist and patriarchal and trolls".
27 Feb 2017

Kaur's take on Sehwag: Not right to make fun
Reacting to Sehwag, Gurmehar Kaur said that while the cricketer has the right to express his opinion but questioned the ethics behind his comment.
Speaking to Rajdeep Sardesai she asks if it is "ethical to make fun of somebody on the expense of their father's death?"
She said that she had become a "troll or a meme right now?"
Aftermath

Gurmehar Kaur gets hate messages, rape threats
For speaking as she did, Gurmehar Kaur alleged that she had been receiving "rape threats".
She has also attracted a torrent of hate messages for her stance on the issue.
ABVP filed a grievance with Maurice Nagar police station corresponding to the threats of rape to Gurmehar Kaur.
Kaur said that such threats were 'not okay' and blamed the government.
28 Feb 2017

The controversy gets polarized
Union Minister Kiren Rijiju said that Kaur had the right to express herself but she can't abuse her motherland.
AAP chief Arvind Kejriwal also critiqued the BJP and the ABVP for the rape threats.
The Congress party including Rahul Gandhi and Robert Vadra, came out strongly in support of Gurmehar and criticized Rijiju for saying that her mind had been 'polluted'.
Love India news?


Stay updated with the latest happenings.
28 Feb 2017

Kaur pulls out of campaign, Babita Phogat lashes at her
Wrestlers Babita Phogat too sided against student Gurmehar Kaur over her beliefs on Pakistan, claiming that her stance was 'against nation and martyrs'.
On the other hand, Kaur pulled out of the Save DU march by teachers and students against campus violence.
She said: "that's all I can take", but requested to others to enter the "Save DU" march in large numbers.
03 Mar 2017

Gurmehar Kaur deletes her Facebook account
04 Mar 2017

Gurmehar Kaur trolled over fake video of drunk woman
Delhi University student Gurmehar Kaur was once again trolled after a video was circulated on social media showing a young woman singing and dancing in a car.
Several Twitter users were quick to assume the girl was Kaur. The woman in the clip however, isn't Kaur.
Kaur was forced to leave Delhi after being threatened with rape online on launching an anti-ABVP campaign.
09 Mar 2017

Didn't know Gurmehar when I tweeted: Randeep Hooda
Randeep Hooda clarified his tweet in response to Gurmehar Kaur wasn't intended to be sexist or misogynistic, and that he should have been "more careful".
He said at the time of tweeting, he didn't even know who she was, or about threats she had faced on social media.
Hooda opined online trolling has become a big issue and it needs to be addressed.