India
Army jawan criticized 'Sahayak' system; found dead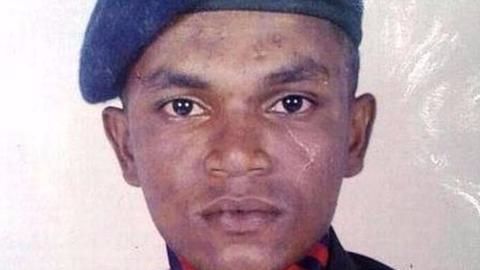 In January 2017, Roy Mathew, an army jawan, had conducted a sting operation against army's 'sahayak' (buddy) system which showed army officers exploiting jawans.
He alleged jawans who were assigned to officers were made to do menial work like polish shoes, wash clothes etc and said this must be stopped.
Mathew, who had been facing an inquiry, was found dead in his barracks today.
In context:
Are our army jawans a vulnerable lot?
2012

Jawaan climbs 'mobile tower' to protest harassment
In 2012, an army jawan called Muthu, climbed a 200-feet mobile tower in Delhi and refused to come down unless Defence Minister spoke with him.
Muthu alleged he was harassed by seniors and his salary was being withheld for 8 months.
He complained he had been transferred 5 times in five years. He added he was raising concerns faced by many jawans.
Army rejects allegations

Army dismissed his complaints and said Muthu was 'cooking up' stories. However Muthu reiterated that "We are working under tremendous pressure in the army, we don't get leave" and insisted that the Defence Minister hear the jawans' grievances.
Love India news?


Stay updated with the latest happenings.
2013

Jawan lodges FIR against seniors for harassment
In December 2013, a junior army jawan had blown the whistle against 'misappropriation of funds.'
Soon after six senior officers began to harass him and tried to prove him 'mentally ill'; a health-check up was ordered and he was found healthy and fit.
He filed an FIR and subsequently police filed charges of criminal conspiracy, fabricating false evidence and manipulating law against the officers.
January 2017

BSF's Tej Bahadur's complaints create a storm
In January 2017, BSF's Tej Bahadur posted a video on Facebook complaining about quality of food they were served.
He alleged that government provided everything however due to corruption at top levels, jawans didn't receive adequate facilities.
His video created a storm and opened the floodgates for similar complaints from other jawans.
The government promised to inquire into the matter and assured resolution.
BSF denies allegations; Bahadur alleges harassment

Immediately after Bahadur's video, BSF rejected his allegations and said he was a habitual offender and was court-martialed in 2010. Bahadur again recently posted a second video in which he alleged harassment and "mental torture" for exposing corruption in army.
03 Mar 2017

Army jawan criticized 'Sahayak' system; found dead
Love India news?


Stay updated with the latest happenings.
Whistleblower Mathew's death suspicious

Matthew's body was found in a decomposed state. The body has been sent for post-mortem which will determine if it was a suicide or murder. For now, police have filed an accidental death report. The Army has also ordered an inquiry.
04 Mar 2017

Army says media "sting operation" spurred Kerala jawan's suicide
An Indian Army spokesperson said "the guilt" from revelations made in a media "sting operation" might have spurred jawan Roy Mathew to commit suicide near his Nashik camp.
Matthew, who hails from Kerala, had accused senior officers of harassment in a news interview.
The army spokesperson said there would be no question of probing Matthew's accusations as no names were revealed in the video.
05 Mar 2017

Family alleges Sahayak had injury marks
A fresh post-mortem was conducted on Lance Naik Roy Mathews after his family alleged that his body bore injury marks. The post-mortem was conducted at the Government Medical College, Thiruvananthapuram.
Roy's brother said he noticed beating marks and blood clots near Roy's feet, indicating he was harassed.
The government has ordered a high-level probe into the incident.
07 Mar 2017

Another BSF jawan alleges harassment in the forces
In another setback for the BSF, Jawan Sindhav Jogidas has released a video alleging harassment. When he extended his leave by two days, he was allegedly fined and asked to become a Sahayak, which he refused.
He was then kept in army custody for a week.
According to his video, when Jogidas approached the PMO and Defence Ministry, an inquiry was ordered against him.