India
AI to fine unruly passengers up to Rs.15 lakh fine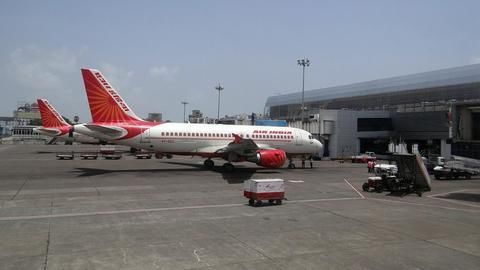 To tackle the menace of unruly passengers Air India will impose a fine of up to Rs. 15 lakh for unruly passengers who cause delays of 2 hours or more.
The decision comes against the backdrop of recent tensions over Shiv Sena MP Ravindra Gaikwad's behaviour aboard an Air India flight.
Air India says the move seeks to boost crew morale.
In context:
Will India soon have a 'no-fly list'?
Details

The growing menace of unruly passengers
Recently, there has been an increase in reports of unruly air passengers in India.
According to 'International Air Transport Association', between 2007-2015, over 49,000 such cases were reported by airlines.
Intoxication either by alcohol or drugs, was the reason in 23% of the cases.
Last month, a flyer behaved deliriously and threatened to crash the plane; several off-duty pilots were required to calm him.
Air India to 'handcuff' passengers

Few months ago, to tackle unruly passengers, Air India announced that it would keep handcuffs on board after rising complaints of molestation and violent behaviour.
Love India news?


Stay updated with the latest happenings.
04 Mar 2017

'Dangerous flyers' will be barred from flying in India
Union Aviation Minister, Jayant Sinha, has confirmed that India is set to have its own 'no-fly list' that will ensure unruly passengers are debarred from flying.
The 'no-fly list' will be a deterrent to those who misbehave while traveling on flights and are a major safety risk to their co-passengers and the flight crew.
This is in light of increasing instances of unruly passengers.
What is 'unruly' behaviour?

According to the Directorate General of Civil Aviation (DGCA), 'unruly passenger incidents' include verbal abuse, smoking, failure or refusal to follow safety instructions, violence against crew and other passengers, harassment, or 'other forms of riotous behaviour.'
About?

How will the 'no-fly' list work?
Aviation Minister is working on a 'digital traveller initiative' to maintain a digital-record of everyone in the 'aviation ecosystem'.
Currently, ID-cards of passengers are required to be checked while boarding flights but this isn't always followed.
Therefore it's proposed that a government I-Card, PAN, Aadhaar be made mandatory while booking tickets.
If someone is on a 'no-fly' list, a ticket booking will alert authorities.
Aviation expert on unruly passengers

Expert, Vipul Saxena "Although such acts are committed by a tiny minority of passengers, they can create inconvenience, threaten the safety and security of other passengers and crew, and lead to significant operational disruption and costs for airlines."
Love India news?


Stay updated with the latest happenings.
24 Mar 2017

Air India mulls own no-fly list after Sena MP's attack
After Shiv Sena MP Ravindra Gaikwad assaulted an Air India staffer for being seated in economy class, the carrier is mulling its own no-fly list to bar such passengers.
Gaikwad allegedly beat him up with sandals "25 times", and tried to push him out of the plane after landing.
Meanwhile, Gaikwad justified his actions, saying he "won't tolerate insult" like a BJP MP.
17 Apr 2017

More autonomy for AI airport managers to check unruly flyers
Air India is mulling more autonomy to its airport managers to check incidents of unruly passengers.
Managers might soon be able to demand compensation from such flyers, or take necessary "action" without awaiting approval from seniors.
Guidelines on the matter will be formally announced after a go-ahead from CMD Ashwani Lohani.
Meanwhile, the government is planning a 'no fly' list to ban unruly passengers.
17 Apr 2017

AI to fine unruly passengers up to Rs.15 lakh fine
How much is the fine?

For a delay of up to one hour, the fine is Rs 5 lakh; for a delay between 1-2 hours, the fine is Rs 10 lakh; for a delay beyond 2 hours, the fine may go up to Rs 15 lakh.