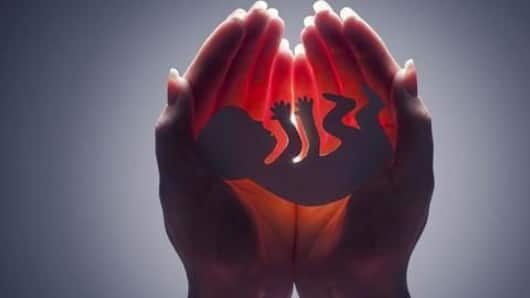 Massive female foeticide racket unearthed in Maharashtra
In a shocking incident, at least 19 female foetuses were found dumped near a stream in Mhaisal village of Sangli district in Maharashtra.
The racket was unearthed while the police were probing the death of a pregnant woman during abortion on February 28
The woman's father, Sunil Jadhav, had approached cops to register complaints against his son-in-law and the doctor.
Foetuses in bags
Many of the aborted foetuses were found in plastic bags. Some were in a decomposed state. Bones and flesh were recovered from some bags. A JCB loader was brought in to remove them.
Woman carrying third girl child was taken for abortion
The son-in-law, Pravin Jamdade, had taken his wife for an abortion since she was carrying their third girl child.
When she died during abortion, the doctor, Dr Babasaheb Khidrapure, said her condition was critical and had her transferred to another hospital, where she was declared dead upon arrival.
Jamdade took the body to Manirajuri, but suspicious villagers interfered before he could perform her last-rites.
Love India news?
Stay updated with the latest happenings.
Yes, notify Me
The accused
The accused, Dr Babasaheb Khidrapure, a resident of Shirol town's Kanwad village, has allegedly been aborting female foetuses since 10 years. He is on the run. Meanwhile, the son-in-law, Pravin Jamdade, was arrested; he allegedly went ahead with the abortion despite Yadav's objection.
Abortions were carried out in secrecy
The hospital in question, Bharti Hospital, wasn't registered under the Nursing Home Act, and wasn't a Medical Termination of Pregnancy (MTP) centre according to records.
Abortions were secretly carried out in the basement.
Three acts - the Nursing Home Act, MTP Act and Pre-Conception and Pre-Natal Diagnostic Techniques Act - were violated in the process.
The government has formed a five-member investigative team.
Maharashtra to seek Karnataka's help to check female foeticide
Maharashtra suspects a cross-border abortion racket, and has said it will take up the issue with Karnataka to prevent such instances.
Alleging even medicine suppliers were involved in such rackets, Shiv Sena MLC Neelam Gorhe said the state should urge the Centre to establish a panel of officers to look into the issue.
Maharashtra has just 894 girl children for 1,000 boys
According to the 2011 census, there are 929 females in Maharashtra for every 1,000 males, below the national average of 940. The child sex ratio is at a pathetic 894, as compared to the national average of 919.
Seven arrested so far in massive Sangli abortion racket
Police have till now arrested seven in the Sangli abortion racket, including three doctors and the husband of the victim through whom the case came to light. Four sonography machines have been seized.
The cross-border racket involved Maharashtra doctors who would send patients to Karnataka for sex determination tests, and receive patients for abortions.
An arrested compounder allegedly provided abortion pills in bulk.
Wife of Sangli doctor begged him to stop female foeticide
According to investigators, wife of the Sangli homeopathic doctor accused of carrying out sex-selective abortions urged him to stop the illegal practice two months ago, but her pleas were ignored.
According to her statement, Manisha Khidrapure (also a homeopath) stopped visiting her husband's nursing homes in Mhaisal village and worked independently instead in Narwad village.