India
UP ATS corners suspected terrorist in Lucknow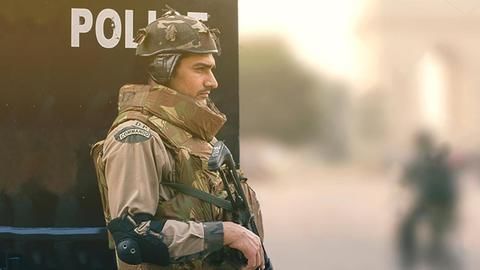 The UP ATS has cornered a suspected terrorist in a densely populated locality in Thakurgunj, Lucknow. An encounter is underway and the terrorist and police exchanged fire.
Senior police officials said "The suspect is possibly from Lucknow, we suspect that he has weapons. We hope to arrest him soon."
He has been identified as Saiful, and has known terror links.
In context:
Terror encounter in Lucknow
Tip

Lucknow: Police tipped off about terrorists
The UP ATS had reportedly received a tip-off that several terrorists may be holed up in the Haji colony in Thakurgunj, Lucknow.
When police arrived at the location and began evacuating residents, the suspect allegedly fired at police, prompting them to call the ATS.
According to reports the police and the suspect exchanged fire for over 30 minutes.
07 Mar 2017

UP ATS corners suspected terrorist in Lucknow
Love India news?


Stay updated with the latest happenings.
Few details on terrorist

Reports indicate that the terrorist has been linked by authorities to a minor blast that occurred on the Bhopal-Ujjain train this morning. However, it remains unconfirmed. Reports say there has also been a blast at the encounter site in Lucknow.
08 Mar 2017

Lucknow encounter kills suspect in Bhopal-Ujjain train blast
The encounter in the Thakurganj area of Lucknow killed a terror suspect linked to the Bhopal-Ujjain train blast.
According to IG ATS Arun, the suspect was a member of the ISIS Khorasan module and was identified as Saifullah.
Tuesday's low intensity blast in the Bhopal-Ujjain train in MP was the first strike of terror by an IS module in India.
Details of the encounter

According to IG ATS Arun, tear gas shells and chilly bombs were thrown by the encounter squad in order to catch the suspect alive. The suspected terrorist fired at the ATS Commandos when they entered the house. The commandos retaliated, killing the terror suspect.
09 Mar 2017

Father of suspected ISIS terrorist refuses to accept body
Saifullah, the terrorist suspected to have links with the ISIS was killed on Wednesday morning in a 12-hour-long encounter with the UP Police.
His father Sartaj refused to accept his body stating that he was ashamed.
Sartaj said that a traitor could never be his son, and that he would've himself handed over his son to the police had he known about his activities.
Love India news?


Stay updated with the latest happenings.
Centre censures UP Police for 'jumping to conclusions'

The death of Saifullah, who was suspected to have links with ISIS, left many speculations unanswered. This led to the Centre reprimanding the Uttar Pradesh and Madhya Pradesh Police for "jumping to conclusions."