India
Pro-ISIS groups vows attacks on Taj Mahal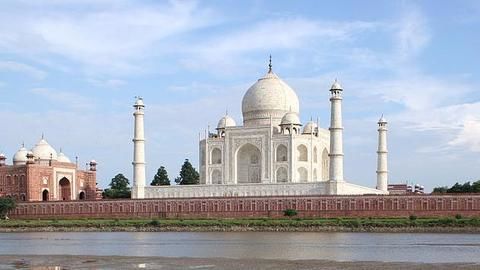 A pro-ISIS group warned of conducting attacks in India, and published a picture of the Taj Mahal as a possible target.
The SITE intelligence group found the picture posted on a Telegram group by the Ahwaal Ummat Media Center. It had a background of the Taj Mahal, with "new target" written on it.
Authorities are trying to ascertain the source of the image.
In context:
IS threatens attacks on India
India

Problem of ISIS in India
Authorities have stated that till now, at least 75 Indians have joined ISIS. Of these a majority of them had left from Maharashtra, Karnataka and Kerala.
A significant number of Indians living abroad also joined ISIS. So far, authorities are said to have apprehended at least 37 people while they were attempting to make their way to ISIS territories from India.
Bhopal

ISIS conducted Bhopal train blast?
Investigating agencies have stated that the Bhopal train blasts that took place recently was meant to announce the arrival of ISIS in India.
Authorities said they recovered a letter from the blast site, that said it was the work of the Indian ISIS.
Though the blast was of low intensity, authorities were worried because of the widespread availability of ISIS literature online.
Love India news?


Stay updated with the latest happenings.
US Embassy issues ISIS warning in India

The US State Department issued a warning to all US citizens of possible ISIS attacks on popular tourist sites in India. The notice, warned all westerners to maintain a high level of vigilance.
17 Mar 2017

Pro-ISIS groups vows attacks on Taj Mahal
18 Mar 2017

2 blasts outside Agra's Cantonment railway station
Authorities said two explosions went off outside the cantonment railway station, Agra. There have been no reports of injuries/casualties.
One blast took place at 5AM at a plumber's house, and the second went off 45-minutes later at the garbage disposal site.
A bomb disposal squad were dispatched to the blast-sites.
Agra has been on a high alert, after ISIS had sent a warning.
12 Apr 2017

No involvement of ISIS in Agra blasts, Rajya Sabha told
Police have found no evidence of involvement of ISIS in the recent explosions in Agra, or of the Taj Mahal being a target, Rajya Sabha was told.
MoS (Home Affairs) Hansraj Gangaram Ahir said the Multi Agency Centre had been "strengthened and re-organized to enable it to function 24X7" to tackle possible threats.
No casualty was reported in the Agra explosions on March 18.