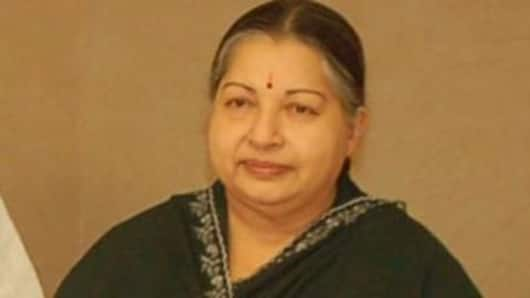 Man claiming to be Jayalalithaa's heir faces potential jailterm
Justice Mahadevan of the Madras High Court said he could ask police officers to "straightway" imprison the man claiming to be Jayalalithaa's son.
According to the man, J Krishnamoorthy, he was born to Jayalalithaa and late Telugu actor Shoban Babu.
He submitted documents including a 'deed of adoption' and asked the court to help declare himself as the son of the late Chief Minister.
Details of the case
According to J Krishnamoorthy, he was born in 1985 and was given up for adoption a year later to the family of Erode-based Vasanthamani, who allegedly worked in the former CM MG Ramachandran's house.
He claimed entitlement to Jayalalithaa's properties including her Poes Garden residence.
He also sought security from the director general of police, fearing threats from AIADMK's current general secretary Sasikala.
Documents to be verified by City Commissioner
Directing Krishnamoorthy to appear before the City Commissioner on Saturday and verify his documents, Justice Mahadevan said, "Don't play with the court. They should be placed before the commissioner of the police. Let the commissioner verify the genuineness of the documents."
Love India news?
Stay updated with the latest happenings.
Yes, notify me
Jayalalithaa's alleged son faces arrest
A man who had claimed that he was Jayalalithaa's son, and sought protection and legal status as her heir now faces arrest.
Justice R Mahadevan of the Madras HC lambasted the man and directed police to take action against him. He said the petitioner had an "ulterior motive."
The court asked police to report before it on 10 April.
Police arrest man who falsely claimed to be Jayalalithaa's son
A police team led by Central Crime Bureau inspector Anand Babu arrested J. Krishnamurthy, the man who claimed to late Tamil Nadu CM Jayalalithaa's son, yesterday.
Krishnamurthy had been on the run for almost two weeks since the Madras High Court ordered his arrest on 27th March for forging documents and falsely claiming to be Jayalalithaa's son.