Delhi: Jamia's students protest outside V-C Najma Akhtar's office
India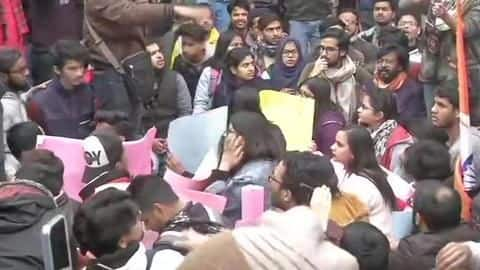 The celebrated Jamia Millia Islamia University in New Delhi witnessed a fresh bout of tension on Monday after dozens of students gheraoed Vice-Chancellor Najma Akhtar's office demanding registration of FIR against police in connection to last month's violence.
Among other demands, the students also want exams to be rescheduled and urged to make the campus safer.
The protest forced Akhtar to talk to students.
Backstory
Context: Last month, Delhi police unleashed horror on Jamia students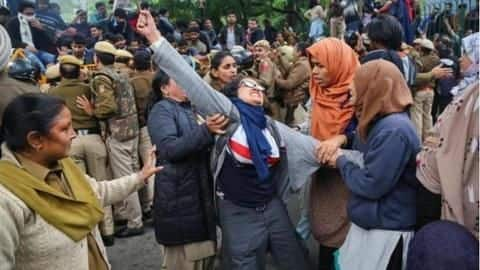 On December 15, Jamia students took out a protest against the newly-implemented Citizenship Amendment Act (CAA). However, after public property was vandalized and buses torched, the demonstration took an ugly turn.
Delhi Police stormed inside the campus, thrashed students, used tear-gas, and even fired bullets.
Nearly 50 students were detained and were released, subsequently, after massive outcry across the nation.
Statement
Will go to court, Akhtar assured students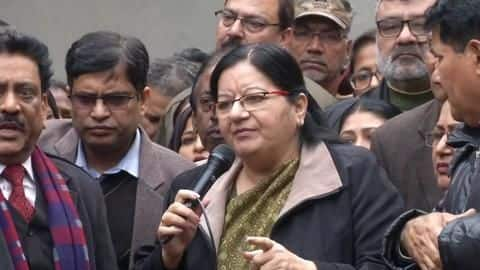 Weeks after violence rocked the varsity, students cornered Akhtar. In her first comment after the incident, the V-C had said she stood by the students and asked them to not be disheartened.
Taking the same line of thought today, Akhtar promised to go to court, despite being a government employee. She revealed the varsity registered an FIR but the police didn't accept it.
Statement
Earlier, Akhtar said rights commission will visit campus
Yesterday, Akhtar told ANI that a team of the National Human Rights Commission (NHRC) will visit the campus on January 14 to record statements of the injured students.
"A team of NHRC had already visited the campus and we have provided the required evidence to them," she revealed.
Calling the police excesses "unacceptable", she said HRD Ministry has been requested to probe the incident.
Quote
Protests neither started not will end in Jamia: Akhtar
"The protests that have been going on across the country neither started nor will end with Jamia. However, we are of the opinion that the academics of the students should not be affected because of the ongoing protests," she underlined.
Firing
Police claimed it didn't fire bullets, later accepted
The way Delhi Police handled protesting students evoked condemnation from all quarters. When students claimed bullets were fired, cops denied it.
However, an investigation validated the students' version and it was learned that two officers fired bullets. But police apparently said they did so in "self-defense" since they were cornered by agitating students.
An SIT has been constituted to investigate the incident.
Students' protest
Like Jamia, another university in Delhi is tensed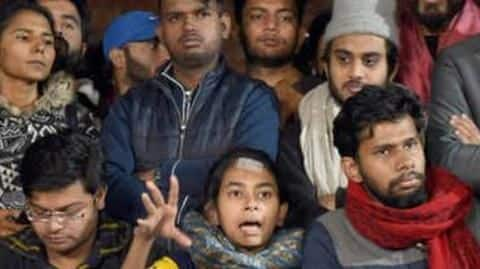 Besides Jamia, another university in the national capital is boiling. On January 5, the students of Jawaharlal Nehru University were thrashed by masked goons inside the campus.
Last week, Delhi Police identified nine suspects, including some office-bearers of ABVP and the president of JNU Students' Union Aishe Ghosh.
But Ghosh, who was injured in the rampage, alleged cops were biased and claimed innocence.