J&K to get India's longest road tunnel in April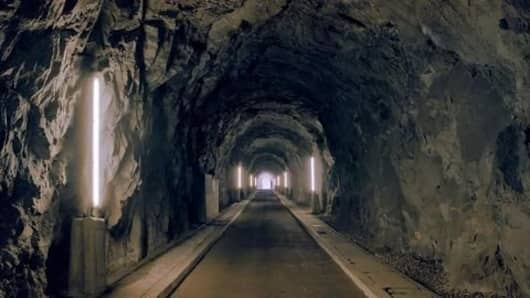 India's longest road tunnel, the 9-km Nashiri tunnel on the Srinagar-Jammu National Highway, will be thrown open to the public on April 2.
The project, which cost Rs. 3,720 crore, will reduce the distance between Jammu and Srinagar by 30 kilometres, and the travel time by two hours.
With this, India will join the select league of countries having integrated tunnel control systems.
In context
Jammu and Kashmir gets India's longest road tunnel
About the Nashiri tunnel project
Construction of the two-lane tunnel started in May 2011 by IL&FS Transportation Network, and completed in nearly six years. It is part of a four-lane project on the Srinagar-Jammu highway, which is the only road link connecting Kashmir with the rest of India.
Facilities
State-of-the-art facilities
The Nashiri tunnel will make the Valley accessible by an all-weather road - a major relief, considering the landslide-prone highway mostly remains blocked during winter.
A crane will remain on standby to tow away damaged automobiles.
Special compartments inside the tunnel will enable people to alert teams in case of medical emergencies.
One-side toll will range from Rs. 55-190 for various vehicles.
Love India news?
Stay updated with the latest happenings.
Notify Me
01 Apr 2017
New tunnel a lifeline for Jammu & Kashmir
The bi-directional road tunnel on the Jammu-Srinagar National Highway is said to be Asia's longest bi-directional tunnel and will reportedly reduce the travelling distance between Jammu and Srinagar by 40 km.
The tunnel will create fuel savings of Rs. 27 lakh per day, and will also avoid land-slide prone areas.
The tunnel has a host of state-of-the-art features for traffic and disaster management.
02 Apr 2017
Modi to inaugurate India's longest tunnel in J&K
PM Modi is set to inaugurate the 10.8 kilometre Chenani-Nashri road tunnel, India's longest tunnel, along the Jammu-Srinagar national highway. Modi will also address a public rally at Battal Ballian in Udhampur.
Armed forces have been put on alert in light of the Prime Minister's visit to the region.
Alertness in border areas and vigilance at vital installations have been increased.