Aadhaar Cards: How safe is our sensitive data?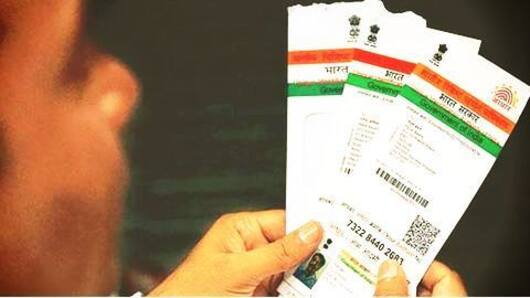 The Centre is making 'Aadhaar Card' mandatory for filing Income Tax Returns, applying for PAN card, and availing several schemes and services from 1 Apr'17.
The government collects sensitive details from individuals for various purposes; but does it make efforts to protect the same?
Is our data really safe when a simple Google search provides open source documents containing sensitive Aadhaar information of thousands?
In context
Aadhaar, PAN cards: Is your sensitive information safe?
Aadhar Project
Aadhaar may soon become the only card required for identification
Arun Jaitley said Aadhaar Card may soon replace PAN, voter ID, and other government-issued cards required for identification.
Aadhaar project aims to provide every individual with a single unique identification number.
However, the legality of making them mandatory across schemes is being questioned.
Also, using Aadhaar as proof of residence isn't clear as providing an address proof isn't mandatory to get Aadhaar cards.
Data
Links of a central ministry provides Aadhar details of many
A Google search can reportedly provide data submitted through Aadhaar, suggesting it is "prone to be in the public domain" with or without people's knowledge.
Details like name, father's name, address, date of birth, contact number, bank details, PAN card, religion/caste, etc. can be obtained.
Several links of a central ministry and government-affiliated colleges contain such information belonging to the beneficiaries of welfare schemes.
Love India news?
Stay updated with the latest happenings.
Notify Me
Easy Access
Sensitive information could easily be accessed by fraudsters
Details of beneficiaries availing scholarship in government-affiliated colleges like scholarship amount, account number, IFSC, state, district, pin code, and university/college can be easily obtained online.
An Excel sheet containing details of Series-IV bond holders of a state-run company is publicly available.
With such data of thousands available on the Internet, one can imagine the consequences if such information falls into the hands of fraudsters.
Linking Aadhaar and PAN
Nilekani said: "(In the past) People have held multiple PAN numbers and evade(d) taxes. Since more than a billion people already have the Aadhaar number, linking the two will go a long way in dealing with the issue of tax evasion and curbing black money."
Aadhaar Cards
Key amendments to Finance Bill make Aadhaar mandatory
In 2013, the SC said Aadhaar couldn't be made mandatory and individuals without it cannot be denied from "genuine" entitlements/subsidies.
However, Aadhaar Act, 2016 made Aadhaar mandatory for certain subsidies/entitlements.
Finance Bill was introduced in Lok Sabha on 1 Feb'17; key amendments to it make Aadhaar mandatory for PAN and ITR.
Individuals not having Aadhaar should apply for it and quote an enrolment number.
27 Mar 2017
SC: Aadhaar cannot be compulsory for welfare schemes
The SC has clarified that Aadhaar cards cannot be made compulsory by the government for availing of welfare schemes.
The court also added that the government can choose to link Aadhaar to opening of bank accounts and filing for income tax and cannot be stopped from doing so.
It said the other pleas regarding Aadhaar have yet to be heard by a 7-member bench.
29 Mar 2017
Aadhaar: Govt-approved agency tweets Dhoni's personal details in major gaffe
After e-governance firm Common Services Center, which assists the Centre in Aadhaar enrolment, tweeted photographs of M.S. Dhoni's personal details on the Aadhaar website in a 'fan moment', his wife Sakshi reached out to IT Minister Ravi Shankar Prasad, asking, "..is there any privacy left ??? (sic)"
The tweet was later deleted.
Prasad, who was apparently unaware of what had happened, assured "serious action".
29 Mar 2017
UIDAI blacklists firm that leaked Dhoni's details
The UIDAI has blacklisted the Aadhaar Centre that accidentally leaked cricketer MS Dhoni's personal details online, for ten years.
UIDAI Chief AB Pandey said that a probe would be conducted into how the details were released to the public. IT Minister Ravishankar Prasad also promised action on the leak.
The issue has once again raised concerns over the privacy of UIDAI data.