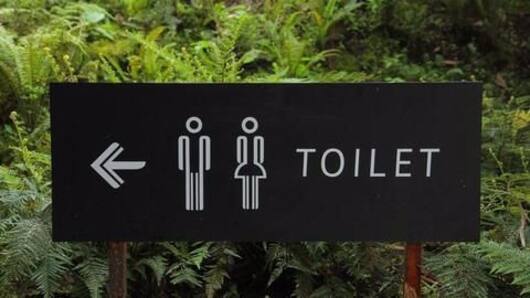 Nagpur artist invents unique 'gram toilets' to tackle open defecation
Nagpur-based artist Shweta Bhattad has come up with a way to ease the process of open defecation in Paradsingha, her native village on the Maharashtra-MP border.
Villagers, especially children, women and elderly, frequently complained that pigs, in search of feces to eat, would bite or push them while they were defecating.
Bhattad invented a four-pillared structure, covered on three sides, to solve the problem.
The story behind 'gram toilets'
The idea was born after Bhattad ran into a child in Paradsingha carrying stones on her way to defecate; when asked, she said it was to scare away the pigs. Bites would often turn septic and cause rabies. Such incidents were especially embarrassing for females.
How do 'gram toilets' work?
Under their project 'Eco-Sani-Irri', Bhattad, sisters Aditi and Lalit Vikamshi used bamboo sticks to design 'gram toilets': the base is elevated and has space in the centre, so pigs can move under the toilets and eat the feces without disturbing anyone.
The artists are working on diverting the water used for sanitation to the fields for irrigation; however, there is a lack of investment.
Love India news?
Stay updated with the latest happenings.
Yes, notify Me
Open defecation statistics in India: The present and future
According to Swachhta Status Report 2015, 52.1% of India's rural population defecates in the open.
Though access to toilets has increased (85.8% rural households didn't have latrines in 1993; in 2012, only 59.4% didn't), it hasn't necessarily implied use of toilets.
PM Narendra Modi recently tweeted 167,226 villages are now Open Defecation Free (ODF); the government aims to achieve full ODF status by 2019.
How does India compare with other countries?
According to the World Health Organization, India has 626mn people who defecate in the open - more than double the combined figure of the next 18 countries. It accounts for 90% of the people in South Asia, and 59% globally, who practise open defecation.
A myriad of reasons for not using toilets
People in rural India are divided on different lines, especially caste. A Research Institute for Compassionate Economics study found they are opposed to sharing toilets, and open defecation is "pleasurable" or "convenient" for many.
Though behaviour change is key, less funds are now being spent on information, education and communication.
Inadequate government assistance means many toilets are lying dysfunctional due to lack of facilities.
Open defecation: A time for chit-chat
Defecating in the open is a time for social interaction, especially for women, who have to get up early morning to ensure privacy (toilets are thus called 'gappa goshti', or 'chit-chat'). While designing 'gram toilets', Bhattad ensured people could see each other's faces while defecating.
Sikkim, Himachal, Kerala lead states in ODF status
Sikkim and Himachal Pradesh became the first and second states to achieve ODF status; Kerala is on its way to be the third to be declared ODF.
Union Minister of Drinking Water and Sanitation Shri Narendra Singh Tomar stated that now, over 100 districts in India are ODF. He stated that based on government data, over 1.7 lakh villages have become open defecation free.
Yogi Adityanath pulls up socks for UP's ODF status
New Uttar Pradesh CM Yogi Adityanath has directed officials to ensure 30 districts of the state are ODF by December; he gave a sanitation pledge to officials of UP, which "lags behind other states as far as cleanliness is concerned".