India
Aadhaar-linked Mid-day Meal Scheme: 4.4 lakh ghost students eliminated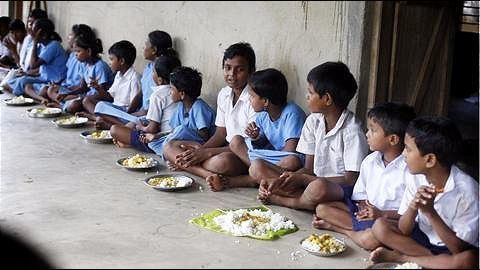 Linking up Aadhaar numbers to the Centre's Midday Meal Scheme has reportedly removed 4.4 lakh ghost students from schools across Jharkhand, Andhra Pradesh, and Manipur.
Earlier in March, the Ministry of Human Resource Development made the 12-digit unique identification number mandatory for the students to obtain meals under the scheme.
However, activists opposed the move as several beneficiaries would be excluded from the scheme.
In context:
Aadhaar card-linked Midday Meal Scheme
07 May 2017

Has Aadhaar linkage improved mid-day meals?
The government is set to assess the efficacy of linking Aadhaar to the mid-day meal scheme. If found effective it will continue as is, but if there is space for improvement the government will introduce changes.
The Human Resource Development Ministry will rope in a consultant for the evaluation.
Rs. 10,000 crore has been allocated for mid-day meals in the 2017-18 budget.
28 Mar 2017

Aadhaar-linked Mid-day Meal Scheme: 4.4 lakh ghost students eliminated
Love India news?


Stay updated with the latest happenings.
Mid-day Meals

Centre provides 60% of the scheme's cost to states
The government provides free mid-day meals to students from classes 1-10 on working days under the scheme.
The data for 2015-16 and 2016-17 shared by Jharkhand, Andhra Pradesh, and Manipur revealed that many government schools showed non-existent students on their rolls to claim additional funds.
The Centre shares 60% of the scheme's financial burden with most states and 90% for the northeastern states.
An HRD official's statement

"We are still in the process of collating data from states, but available figures show fake enrolment of students in government schools. The number of fake students may go up further once all the states share data."
States

Over 2.2 lakh ghost students in Jharkhand
Out of 48 lakh students enrolled under the scheme in Jharkhand, over 2.2 lakh non-existent students have been removed from the records; 89% of the students availed of Aadhaar.
Andhra Pradesh linked 29 lakh government school students to the Aadhaar scheme; it had 2.1 lakh students who existed only on the list.
The number of ghost students in Manipur's government schools was 1,500.
Students

Only 30% government school students possess Aadhaar cards
Of 13.16 crore students enrolled in India's 11.5 lakh government schools, only 10.03 crore availed of midday meals in 2015-16.
An HRD official said they are yet to calculate the money saved through the elimination of non-existent students.
30% of 11 crore government school students in classes 1-8 possess Aadhaar cards; the Centre would bring all students and teachers under the scheme by Jun'17.
Love India news?


Stay updated with the latest happenings.
Aadhaar-linkage

Centre saved over Rs.49,000cr through Aadhaar-linkage
Aadhaar linkage helped the Centre save over Rs. 49,000cr by plugging the leaks in LPG, MNREGA, scholarship, and pension-schemes over the past two-and-a-half years.
Pandey said it would be wrong to assume that children without Aadhaar would be denied mid-day meal benefits.
He added Aadhaar Act's Section-7 states that until students are assigned Aadhaar numbers, they can avail the scheme with other identification documents.