Slaughterhouse ban: Jharkhand follows UP, clamps down on illegal abattoirs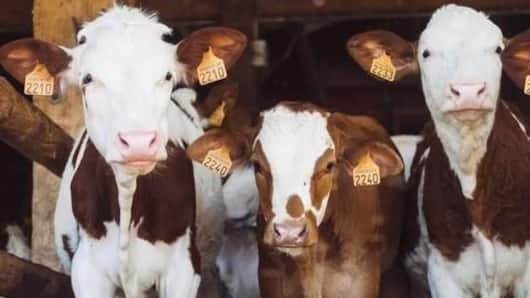 Days after Yogi Adityanath banned illegal slaughterhouses in UP, Jharkhand, another BJP-ruled state, has followed suit.
An official statement mentioned safety and health of the general public and overall public order as the reasons behind the ban.
Mutton and chicken sellers will now have to obtain licences from municipal bodies, while cow and buffalo slaughterhouses may have to shut down their businesses.
In context
The BJP's 'gau raksha' policy
Uttar Pradesh
Meat industry in UP, country's biggest producer, hit hard
The UP meat industry, which accounts for 19.1% share of the country's production and employs 25 lakh people, has been hit hard due to the ban, as sellers launched an indefinite strike in protest.
Egg and fish vendors have joined in and put up shutters too.
Many eateries, including Lucknow's legendary Tunday Kababi, had to change menus and temporarily shut operations post the order.
Haryana to follow?
Mulling its own 'gau raksha' movement, the Haryana government has put a stop to the issuance of licences to slaughterhouses. Haryana Cow Protection and Enrichment Unit president Bhani Ram Mangla said the group will intensify their anti-cattle smuggling movement from April end or May first.
Love India news?
Stay updated with the latest happenings.
Notify Me
Politics
BJP's 'gau raksha' movement a political gimmick?
Despite its "zero tolerance" for cow slaughter, the BJP assured it wouldn't ban beef in Meghalaya, Mizoram and Nagaland if it wins the 2018 assembly elections here.
Meghalaya BJP chief Shibun Lyngdoh said that it would, however, attempt to regulate killing and sale of animals.
Presently, Congress rules in Meghalaya and Mizoram, while the BJP is coalition partner in the Naga People's Front government.
01 Apr 2017
5 BJP states begin crackdown on illegal slaughterhouses
BJP governments in Jharkhand, Rajasthan, Uttarakhand, Chhattisgarh and Madhya Pradesh have begun cracking down on illegal slaughterhouses in their states.
Meanwhile, hardline Hindu groups in Bengaluru have also begun attempting to enforce similar rules in the city. They have demanded that 1700 illegal meat shops in the city be closed.
Leaders of these organizations sought to make Uttar Pradesh the role-model in this effort.
17 Apr 2017
VHP: Will ban cow slaughter, beef in Goa in 2-years
The Vishwa Hindu Parishad has stated that it would impose a ban on cow slaughter and beef consumption in Goa in just 2 years, without the government's support. It added that groups like the Bajrang Dal and the Durga Vahini would help them achieve this.
The VHP stated that it is capable enough to impose and enforce the ban unilaterally.
08 May 2017
After UP, Haryana, BJP-ruled MP to shut illegal slaughterhouses
Chief Minister of Madhya Pradesh, Shivraj Singh Chouhan on Sunday announced that the state's illegal slaughterhouses would all be shut down.
After UP and Haryana, Madhya Pradesh becomes the third BJP-ruled state to decide so.
The announcement was made at a religious function at a Jain pilgrimage site at Mohan Kheda district.
Slaughtering animals for food is a state subject, regulated by local bodies.