India
Centre approves 101 cold-chain projects to curb food wastage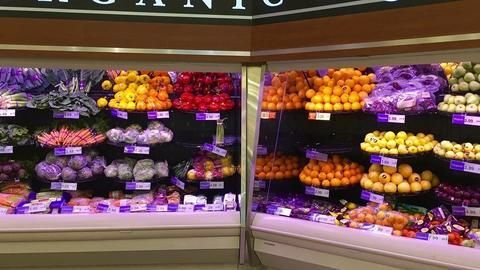 The government approved 101 cold-chain projects across the country, to attempt to curb the problem of food wastage in India.
Several firms including Big Basket, Amul and Haldiram will be a part of the project which would entail investments to the tune of Rs. 3100crore.
The Ministry of Food Processing Industries will provide Rs. 838crore, while Rs. 2200crore will come from the private sector.
In context:
Cold-chain grid to curb food wastage in India
Cold Chain

What is a cold chain?
A cold chain is a temperature controlled supply chain that is used for food transportation and sometimes for medical and chemical transportation.
The chain aims to preserve and extend the shelf-life of food products like fish, fruits and vegetables.
All goods in a cold supply chain are always perishable.
Lack of cold chain systems cause significant damage to products like food and medicines.
Need for the project

Data suggests that fruit and vegetable wastage in India stood at Rs. 92,000crore in 2014. Despite being one of the world's largest food producers and the world's 2nd largest fruit producer, only 2.2% of produce is processed. 80-90% existing cold-storage capacity is used for potatoes.
Love India news?


Stay updated with the latest happenings.
28 Mar 2017

Centre approves 101 cold-chain projects to curb food wastage
Building capacity

The scheme will add 2.76 lakh tonne of cold storage capacity, 115 tonne/hour of Quick Freezing, 56 lakh litres of daily milk processing, 629 refrigerated/ insulated vehicles and 210 additional tonnes of batch freezing capacity. They will be linked to form a national cold-chain grid.
Details

Details of the project
Big Basket, Haldiram, Amul, Hatsun Agro, Sterling Agro, Prabhat Dairy, Balmer Lawrie, Tirumala Milk, Desai Brothers and Falcon Marine (Odisha) are among some of the companies which have been roped in for the project.
Maharashtra, Uttar Pradesh, Gujarat, Andhra Pradesh, Punjab and Madhya Pradesh will see most of the projects.
53 projects are in fruits and vegetables, 33 in dairy and 15 in meat.
Benefits

Benefits of the project
4.7 million tonnes of agricultural and horticulture produce worth Rs. 12,000 crore will be processed in these projects, reducing wastage by 13%.
In addition, the scheme provides financial assistance of up to Rs. 10 crore for entrepreneurs.
Over 2.6 lakh farmers would benefit from the scheme and it will also provide employment opportunities to 60,000 people.