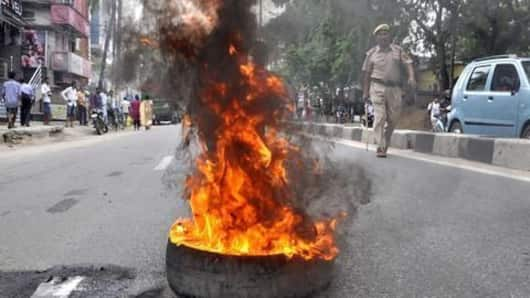 Oppo India faces public backlash for "anti-national" activity
Chinese mobile phone company Oppo's Indian installation faced a major backlash from the public today after a Chinese national working for Oppo India in Noida, Uttar Pradesh, allegedly, "tore down the National Flag and dumped it in a dustbin".
The backlash extended to social media as well, with many angered by the "anti-national" actions of the Oppo employee.
The crowd backlash against Oppo
Three Oppo employees filed a case against the Chinese national for disrespecting the National Flag to the Noida police.
Hundreds of people comprising locals, employees of Oppo India, and members of the Vishva Hindu Parishad protested outside the Oppo India office in Noida.
Demands for the Chinese national's arrest were made by the aggressive crowd, and issues regarding violation of labour laws were raised.
Investigations are underway
"A case of disrespecting the national flag has been filed on the basis of a complaint filed by the company employees. We have not arrested anyone in this connection and investigations are in progress," said the senior police superintendent, Gautam Budh Nagar, Dharmendra Singh.
Love India news?
Stay updated with the latest happenings.
Yes, notify me
People call upon Yogi Adityanath to take action
Social media is abuzz with videos of the incident, nationalistic fervour, and angry criticism from enraged nationalists.
Many people, on both Twitter and Facebook, have even called upon newly elected UP Chief Minister and Hindutva hardliner Yogi Adityanath to look into the issue and take swift action.
On the other hand Oppo India said that they were "investigating the situation" to verify the facts.
Oppo row: China seeks protection of firms, nationals
Credits:
Reacting to protests over the Oppo flag tearing row, China has asked India to ensure the safety of its firms and nationals in the country.
Chinese foreign ministry spokesperson Lu Kang said that Beijing hoped that "this issue can be resolved properly," and in a calm manner.
He clarified that China asks all its nationals "to abide by local-law, regulations and respect local practices."
Oppo employee sacked for tearing Indian flag
Chinese smart phone maker Oppo fired its employee who was found to have torn down the Indian flag at their Noida office.
Oppo took action in light of growing protests against the incident across the country.
It said "this is an individual's behaviour that in no way represents our company's position."
The employee in question was a production manager at the firm.
Oppo row: Opens for business after 6 days
Credits:
6 days after their mobile assembling unit was shut over the tearing down of the Indian flag, Chinese mobile maker Oppo has reopened its offices in Noida.
Over 2000 employees reported for work for the 8AM shift. Police remained outside the premises to prevent any untoward incidents.
Superintendent of police (city) Dinesh Yadav said, "There was no uproar and the day passed peacefully."