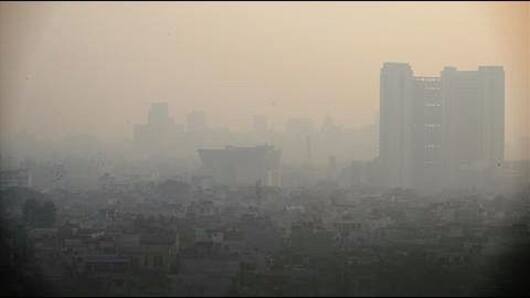 Gurugram Pollution: When a nine-year-old took control
Gurugram can finally breathe easy, thanks to a nine-year-old resident of Sector-67.
When toxic dust accumulation put people's health at risk and threatened their lives, the nine-year-old girl, who suffers from irreversible respiratory damage herself, took the lead to make things right.
Read on to find out what happened when she, along with her father decided to petition the National Green Tribunal (NGT).
Gurugram residents face health hazards due to air pollution
Credits:
Gurugram residents are facing life-threatening toxic dust accumulation, garbage, construction debris, plastic waste, stagnating untreated sewage, etc.
Uncovered construction sites are causing unchecked accumulation of dust and generating construction and demolition (C&D) waste.
Residents of Sector-67 sent legal notices to civic agencies over illegal C&D waste dumping on the stretch from St. Xavier's School on Golf Course Extension Road to Park View Spa Next.
Petition demanding better air quality in NCR
The Diwali of 2016 was the wake-up call for a nine-year-old resident of Gurugram Sector-67 and her father Kush Kochgaway to do something about the pollution.
What peeved them was the poor-air-quality coupled with the "irresponsible" construction activity in Gurugram and Sohna.
They started a Change.org petition in Nov'16 urging, Prime Minister Narendra Modi to reduce pollution in the National Capital Region (NCR).
Love India news?
Stay updated with the latest happenings.
Yes, notify me
Kochgaway knocks the NGT's doors
Kochgaway felt the pollution was "leading to a major environment disaster."
After months, he was forced to knock the National Green Tribunal's doors "after exhausting all options of working collaboratively with MCG, HUDA, HSPCB and DTCP."
He then engaged with SC Advocate Jai Dehadrai and they succeeded in convincing the Tribunal to direct Haryana Government and other concerned authorities to do something about it.
Kush Kochgaway petitioned NGT on behalf of his daughter
The nine-year-old has been living in Gurugram with her family for three years now.
She suffers from a severe respiratory illness and needs constant observation, medication, and intensive treatment.
Despite precautions, her condition has drastically worsened due to the toxic dust and airborne pollutants.
Her father petitioned the NGT on her behalf while advocate Dehadrai appeared for the applicant.
Kush Kochgaway's statement
Kochgaway stated: "The current scenario is leading to a major environment disaster, causing immense air and water pollution. As a result of these pollutants, my young daughter is suffering from irreversible respiratory damage."
Huge relief for the residents of Gurugram
The NGT directed Gurugram and Haryana Government officials to submit a report explaining what caused such poor-quality air.
It acknowledged that unchecked construction activities in Gurugram and Sohna have rapidly deteriorated the air quality, which is causing major respiratory ailments for the old and young people alike.
The bench asked authorities to also come up with solutions to counter the situation.