Cow protection: Gujarat passes stricter laws, enhances punishment to lifer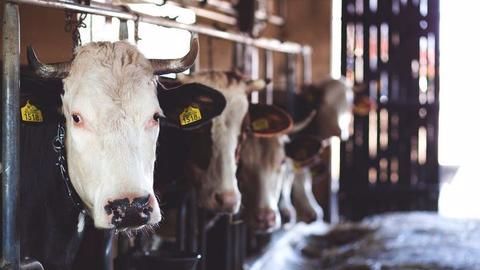 Punishment for cow slaughter in Gujarat has been enhanced from the current seven-year jail term to life imprisonment, as the assembly passed a bill on harsher laws on cattle protection.
Other amendments include penalties of Rs. 1 lakh, and permanent confiscation of vehicles used to transport cattle.
Gujarat now has the strictest laws on cow slaughter in the country.
In context
Gujarat passes harsh cow protection laws
Politics
Political move ahead of elections?
The move comes amid reports that the BJP is looking to push for early elections in Gujarat.
It is being seen as an attempt to pacify the Patidar community, a significant vote bank, whose violent reservation agitation might otherwise influence poll outcomes.
CM Vijay Rupani had earlier announced at Patidar and tribal gatherings the party's plans to make cow protection laws stricter.
PM Modi's precedent
In 2011, Gujarat under then-CM Narendra Modi had amended the Gujarat Animal Preservation Act, 1954, and imposed a ban on transportation and slaughter of cows. The offence was then punishable with seven years imprisonment, fine upto Rs. 50,000, and confiscation of vehicles for six months.
Love India news?
Stay updated with the latest happenings.
Notify Me
Slaughterhouses
BJP-ruled states crack down on cow slaughter
This comes after Uttar Pradesh launched a crackdown on illegal slaughterhouses. Chhattisgarh, Jharkhand, Madhya Pradesh, Rajasthan and Uttarakhand followed.
Haryana is believed to be mulling its own 'gau raksha' movement; it has stopped issuance of licences to slaughterhouses.
However, despite its "zero tolerance" for cow slaughter, BJP assured it wouldn't ban beef in Meghalaya, Mizoram and Nagaland if it wins the 2018 elections there.
Which states have criminalized cow slaughter?
Many states, including Jammu and Kashmir, Bihar, Chhattisgarh, Himachal, Rajasthan, Maharashtra and MP have fully or partially banned cow slaughter. However, there are no restrictions in any northeastern state except Assam, as well as Kerala and West Bengal.
08 May 2017
Gujarat- Probe ordered into custodial death of cow-slaughter accused
A probe has been ordered into the custodial death of a tribal man in Gujarat who was arrested for alleged cow-slaughter.
Kodar Gamar died in the custody of Sabarkantha police, who said he collapsed while going for a bath, and had even complained of uneasiness earlier.
The police ruled out foul play. He reportedly passed away while in hospital.