India
China wants to stop Dalai Lama's ongoing tour in India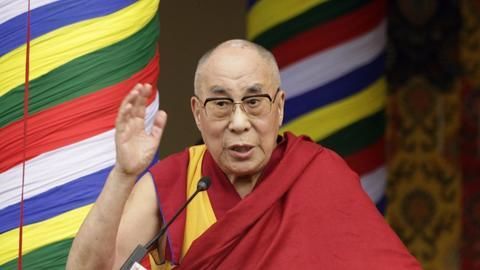 On Wednesday, China initiated a diplomatic attack against India for arranging the 14th Dalai Lama's trip to the "disputed" region of Arunachal Pradesh.
China has demanded an immediate stop to Dalai Lama's ongoing tour, saying the visit would trigger China's dissatisfaction.
They also added that China would take necessary means to protect its territorial sovereignty, legitimate rights and interests.
In context:
Dalai Lama's visit: China and India lock horns
About

The Dalai Lama: spiritual head of Tibetan Buddhism
Born on 6 July 1935 as Tenzin Gyatso in Amdo, Tibet, the fourteenth Dalai Lama was enthroned in 1940 and commenced political duties by 1950, after the Chinese invasion of Tibet.
A monk of the Gelug school of Tibetan Buddhism, he has spoken on issues including environment, sexuality and Buddhist philosophy and was awarded the Nobel Peace prize in 1989.
History

Tibet as a factor in Sino-Indian relations
Exiled by China following the Tibetan Uprising (1959), the Dalai Lama was given asylum along with fellow exiles in India. Thousands of Tibetans have followed him into India in these 60 years.
India is also home to the Central Tibetan Administration, commonly referred to as the Tibetan government in exile.
In China's view India encourages Tibetan Separatism, posing challenges to their territorial integrity.
Love India news?


Stay updated with the latest happenings.
Details

Dalai Lama's North East visit
Dalai Lama's 10 day visit covers various parts of India's North-East. He is set to inaugurate a Tara temple in Lumla and deliver teachings in Itanagar and Bomdila.
Considerably irksome to the Chinese is his two-day stay in Tawang, 25 km away from the Macmahon Line.
Visit to Tawang, considered second in importance to Lhasa, is expected to cement India's authority in the region.
Analysis

Implications for Sino-Indian bilateral ties
India's defiant stance towards Beijing marks a policy shift from a time where ministers hesitated to publicly engage with Tibetan leaders, fearing Chinese reprimand.
The controversy sheds light on the countries' views on the One China policy, with neither country accepting each other's territorial claims, in Arunachal and Aksai Chin respectively.
The row could further complicate tense Sino-Indian relations on regional and multilateral issues.
06 Apr 2017

China wants to stop Dalai Lama's ongoing tour in India
19 Apr 2017

Dalai Lama visit: China renames 6 Arunachal regions in retaliation
In retaliation to the recent visit by the 14th Dalai Lama to Arunachal Pradesh, China has renamed 6 places in Arunachal Pradesh in standard Chinese.
China's ministry of civil affairs sought to show India, the "sovereignty" of these places according to Chinese state media reports.
China calls the region "South Tibet" and says India is forcibly occupying what is essentially Chinese territory.
Love India news?


Stay updated with the latest happenings.
21 Apr 2017

India: China has no right to rename Indian cities
Responding to China's renaming of 6 regions in Arunachal Pradesh, union information and broadcasting minister M Venkaiah Naidu said no foreign country has the right to rename Indian cities.
He said, "Every inch of Arunachal Pradesh belongs to India ... let them rename. How does it matter?"
Meanwhile, India's foreign ministry also clarified that China's renaming has no political significance for India.