India
Krishna and Godavari rivers to be linked next week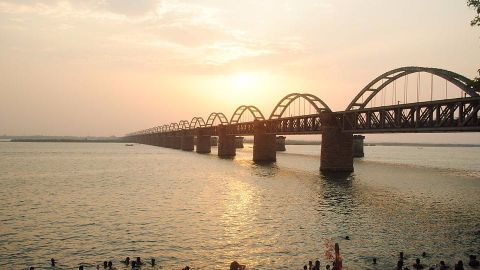 Krishna and Godavari rivers in Andhra Pradesh are set to be formally linked on 15 September 2015 under the Polavaram project that seeks to transfer surplus water from Godavari to Krishna for use in its delta region.
The event will be attended by Chief Minister N. Chandrababu Naidu.
This would see the completion of the ambitious government plan to make the state "drought-proof".
In context:
Godavari-Krishna link to create history
River-linking

The National River Linking Project
The National River Linking Project (NRLP), by linking India's rivers through a network of reservoirs and canals, seeks to ease water shortages in southern and western India while reducing impacts of recurrent floods in eastern parts of the Ganga Basin.
The project is being managed by the National Water Development Agency (NWDA).
If completed, it will be the largest infrastructure project in the world.
Needs

Why inter-link rivers?
The erratic nature of rainfall in India- the dramatic variation of precipitation patterns across distance and over time, leads to droughts, floods and shortages of drinking water.
India's growing population demands higher crop yield and better crop security, which natural rainfall cycles cannot guarantee.
Inter-linked rivers can provide better regional navigation and faster transport.
Diminishing ground-water levels raises the need for alternate water sources.
Love India news?


Stay updated with the latest happenings.
NRLP in numbers

As of 1999, the National River-Linking Project would encompass a combined network of 30 river-links across a length of 14,900 kms. The cost was estimated to be around $120 billion.
Plans

NRLP plan components
The NRLP has three main components.
The Himalayan component is aimed to irrigate an additional 22 million hectares, to generate 30 million kilowatt hydro-power, and for flood control in Ganga-Brahmaputra basin.
The Peninsular component is aimed to irrigate around 35 million hectares, to generate hydro-power, apart from flood control and regional navigation.
The Intra-state linking component to aimed to link rivers within a state.
10 Sep 2015

Krishna and Godavari rivers to be linked next week
Consequences

Consequences of Godavari-Krishna link
Under the Polavaram Project, the Pattiseema project, due to be completed in March 2016, multiple pumps would be used to transfer water from Godavari to Krishna basin, for use in the Krishna delta complex and in the drought-prone region of Rayalaseema.
However, the project would displace 276 villages and around 44,574 families in Andhra Pradesh, out of which around 50% are a tribal population.
Love India news?


Stay updated with the latest happenings.
Other global river linking projects

The NRLP is similar in scope to global river-linking projects like the Rhine-Main-Danube Canal completed in 1992, the Tennessee-Tombigbee Waterway completed in 1984, the Marne-Rhine Canal completed in 1853, the Gulf Intercoastal Waterway completed in 1949, etc.
17 Sep 2015

'Pavitra Sangam': Godavari- Krishna rivers finally meet!
The Godavari flew into the Krishna river on Wednesday night, thereby completing the much-delayed river-linking project.
An emotional ChandraBabu Naidu joined in the festivities at Ibrahimpatnam near Vijayawada, switched on the pump and commissioned the project.
The water will be stored at Prakasam barrage (Vijaywada), which will then be used to irrigate ~7 lakh acres in the West and East Godavari and Krishna districts.