India
Men beaten by gau rakshaks were transporting cattle legally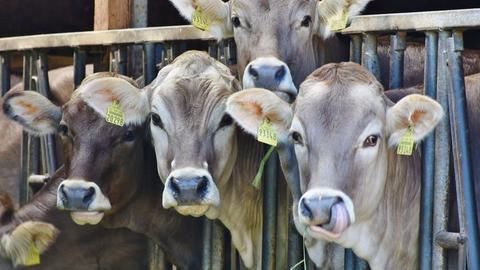 The five men beaten by 'gau-rakshaks' on the Jaipur-Delhi highway near Behror, had legal permits for the purpose of transporting cattle.
The vehicles were carrying 10 cattle amongst them and were attacked by gau rakshaks, that alleged that the cows were being smuggled for slaughter.
According to the victim, they had paid Rs. 700 to Jaipur Municipal Corporation for the transport permit.
In context:
Alwar's cow vigilantism attack
Incident

Five men assaulted by gau rakshaks, one dead
55-year-old Pehlu Khan was on his way home, from Jaipur to Nuh, along with his two sons and two villagers, when a group of men stopped them at Alwar.
The 'gau rakshaks' found that the men were transporting cows. They then dragged them out and assaulted with sticks and belts.
Khan later succumbed to his injuries.
06 Apr 2017

Men beaten by gau rakshaks were transporting cattle legally
Love India news?


Stay updated with the latest happenings.
07 Apr 2017

Gau rakshaks: SC gives Centre, states 3 weeks to respond
The SC has sought responses within three weeks from the Centre as well as Gujarat, UP, MP, Jharkhand, Rajasthan and Karnataka, on a petition seeking a ban on 'cow protection' vigilantes.
Congress leader Tehseen Poonawalla, petitioner, wants 'gau raksha' groups to be declared illegal.
Various states have defended attacks attributing them to religious sentiments attached to cows.
The next hearing is on May 3.
14 Sep 2017

Alwar lynching: All six accused cleared, case against them closed
In a rather unfortunate development, police have reportedly cleared all the six accused in the Pehlu Khan lynching case and closed investigations.
Khan had named all six before his death. Three have been linked to right-wing organizations.
The findings were based on statements by staff of a cow shelter and mobile phone records, which reportedly prove all were in the shelter when the attack happened.
Action

Where are the accused now? How will the case unfold?
Six people were named in the FIR on the basis of Khan's statement- Om Yadav, Hukum Chand Yadav, Sudhir Yadav, Jagmal Yadav, Naveen Sharma and Rahul Saini. None have been arrested.
Another seven, including two minors, were arrested on the basis of a video of the incident. Five of them have got bail.
The case will continue against nine people identified from the video.
Pressure

Allegations of pressure after case against six accused dropped
The development has triggered allegations of pressure to drop the case against the accused.
Khan's son Irshad, who was there during the attack, said the men had called each other by name. "They stopped our vehicles. They mobilized mobs and started the assault. How could they not be guilty?"
Lawyers also said a "dying declaration" is the best evidence but investigators had ignored it.