Demonetization: Fake Rs 2,000 notes worth Rs. 6.2cr recovered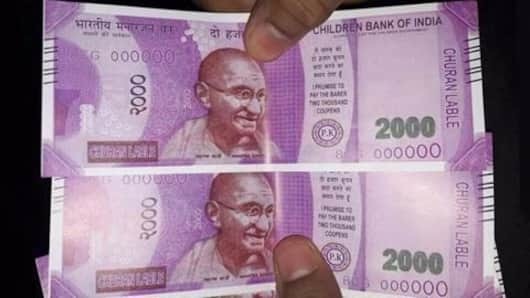 Post last year's demonetization announcement, all security agencies combined recovered 28,000 fake notes of Rs. 2,000, with the maximum recoveries from Gujarat.
Minister of State for Home Kiren Rijiju told parliament the total face value of the seizures was Rs. 6.2 crore; he assured all cases are under investigation.
In context
Demonetization: Over 22,000 fake notes recovered
Gujarat tops the list
Out of 22,677 fake Rs. 2,000 notes seized by the National Investigation Agency, Gujarat accounted for 22,479. The state police also seized 4,251 fake Rs. 2,000 notes. The state accounted for 95% of the fake Rs. 2,000 notes seized in the country.
Hotspots
The hotspots for fake currency
BSF retrieved 378 fake Rs. 2,000 notes along the Indo-Bangladesh border in Assam and West Bengal.
Notes are routed from Pakistan and Bangladesh via Malda, which has a porous international border.
80% of India's counterfeit currency is routed through Malda, Murshidabad and Nadia. Malda accounts for 80% of that amount.
12,956 fake Rs. 500 notes were also recovered from 10 states, with Gujarat leading.
Love India news?
Stay updated with the latest happenings.
Notify Me
10 Apr 2017
Demonetization: 2,000 accounts opened at SBI Bareilly in 2 months
CBI has launched a probe into the opening of over 2,000 accounts post demonetization till December 31, at SBI's Civil Lines branch in Bareilly, allegedly to launder black money worth at least Rs. 8cr.
An FIR has been lodged against unknown people, including bank officials.
In 794 cases, amount over Rs. 1L was deposited; officials also refused to disclose amounts in some major deposits.