India
Kashmir: PDP leader killed, fresh protests in Srinagar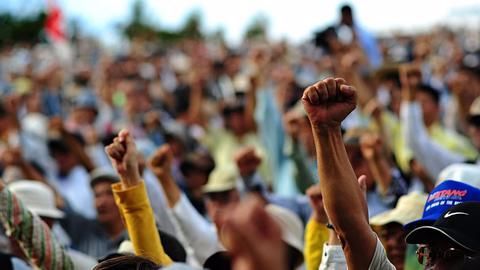 Hours after PDP Chief Mehbooba Mufti met PM Modi over the Kashmir crisis, Peoples Democratic Party (PDP) leader Abdul Gani Dar was shot by unidentified assailants in Pulwama. He succumbed to his injuries in hospital in Srinagar.
Meanwhile, fresh protests and clashes have broken out in pockets in Kashmir.
In Srinagar several college students clashed with security forces, but no casualties were reported.
In context:
J&K protests continue
Kashmir

Kashmir on the boil
Ever since the April 9 Srinagar bypolls, authorities recorded an increasing trend in violent protests across the state.
Stone pelting, petrol bombs and setting property on fire was rampant. In addition, recent social media posts of jawans being heckled by crowds, and another video of a protester tied to a jeep, have added to the violence in the region.
2 militants killed in Budgam

A patrolling party of the 53 Rashtriya Rifles came under attack by militants at Hayatpora near Srinagar on 22 April. In the ensuing gun battle two militants were killed by the army.
Love India news?


Stay updated with the latest happenings.
24 Apr 2017

Kashmir: PDP leader killed, fresh protests in Srinagar
25 Apr 2017

PM Modi open to talks, but impossible amid violence: Mufti
After talks with PM Narendra Modi, J&K CM Mehbooba Mufti said he was "amenable" to talks with stakeholders, but dialogue was impossible amid stone-pelting and bullets.
"Modiji has repeatedly said he will follow in the footsteps of Vajpayeeji, whose policy was of reconciliation not confrontation," Mufti told reporters.
However, there was no immediate confirmation from the PMO.
29 Apr 2017

Violence must stop for talks on Kashmir: SC intervenes
In a rare move, the SC offered to facilitate talks between various stakeholders in Kashmir; however, it warned that talks can only come when violence stops.
It asked the Jammu and Kashmir High Court Bar Association, the petitioner, to submit an undertaking saying there will be no protests for two weeks, before it acted against use of pellet guns and heavy deployment of security.
02 May 2017

EC: Situation not feasible to hold Anantnag bypolls
According to the Election Commission of India (ECI), the current situation in Jammu and Kashmir made it difficult to hold elections.
On Tuesday, it cancelled the bypolls to the Anantnag Lok Sabha seat.
The bypolls were earlier scheduled for 25th April, but were postponed to 25th May.
The EC had also asked for additional security forces for the same, but was denied.
Love India news?


Stay updated with the latest happenings.
07 May 2017

If anyone can resolve Kashmir issue, it is Modi: Mehbooba
Talking about the long-standing Kashmir issue, J&K CM Mehbooba Mufti said that PM Narendra Modi was the only hope who could "take us out of this quagmire".
"(Modi) has the mandate. Whatever he decides, the nation will support him," she said.
She also blamed the previous governments for "lack of initiative".
Last month, Mufti held talks with PM Modi on the issue.
08 May 2017

500 trained stone-pelters to fight alongside Army in Kashmir
A saint in Kanpur said he has trained 500 stone-pelters to fight alongside the army in Kashmir. He said he has already trained 2,000 followers at Siddhnath Ghat in Kanpur recently and is sending the first batch to Kashmir.
The stones have been specially crushed for this purpose.
Sources said the group's "aim is to give a befitting reply to stone-pelters in Srinagar."