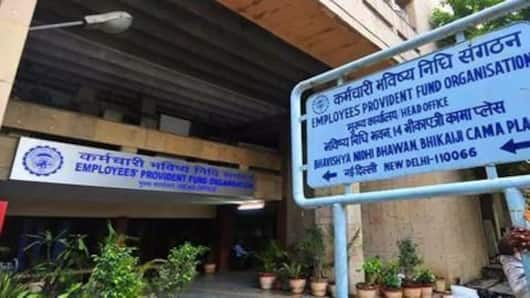 FinMin gives go ahead to 8.65% EPF interest rate
Finance Ministry has now grudgingly given a go-ahead to Labour Ministry to provide an 8.65% rate of interest, on the EPF for 2016-17, as decided earlier by EPFO trustees.
This move is expected to benefit more than four crore EPFO members who are enrolled in the scheme currently.
However, the approval has been subjected to an imperative rider that can't be changed.
Finance Ministry ratifies 8.65% EPF deposits rate
Labour Minister Bandaru Dattatreya said the Finance Ministry ratified that the finance ministry has approved 8.65% interest rates on EPF deposits.
Formal sector workers were apprehensive that an interest rate less than 8.65% would have been approved. Four crore subscribers will benefit from the decision.
He said a bill to double the ceiling of tax-free gratuity to Rs 20 lakh would also be passed.
Agreed with a non-negotiable clause
The Finance Ministry has, however, put forward a condition in front of the Labour Ministry that this change in rate should not result in any deficit in the retirement fund.
This has been agreed by the Labour ministry as their estimates show that EPFO funds will see a leftover even after providing the new rate of interest.
Love India news?
Stay updated with the latest happenings.
Yes, notify Me
Reason for earlier reluctance and need of rider
The Finance Ministry previously had pushed for an EPF rate which was lower to make sure the interest offered was aligned with the rates of small savings than what was deemed fit by the trustees.
The FinMin finally agreed to the recommendation of the Labour Ministry with a rider, noting that it was up to the latter to decide on the interest rate.
Making an argument on revised rates
Labour Minister Bandaru Dattatreya had said that even if they provide 8.65% interest rate they will have a Rs. 158crore surplus, thus currently imposed rider is not going to be a problem.
It is to be noted that FinMin had earlier agreed to reduce the EPF to 8.7% on the insistence of CBT but after meeting with criticism withheld its previous rate of 8.8%.
EPFO mulls on creating exit policy to maximize returns
EPFO wants to have an exit policy to liquidate its investments so that it is able to provide the optimum returns for its current members.
The retirement fund body usually invests in government securities and state loans that come with a maturity period and has now tasked a Bengaluru-based management institute to come up with a proper exit policy which it lacked before.
EPF members will be able to settle claims via UMANG
EPFO is currently devising a method to facilitate settling of claims by making it possible to give an online application.
This new system is going to be paired with Unified Mobile App for new-age governance (UMANG) App but a definite release date has not yet been fixed by the retirement fund body.