British Court frees Mallya on strict terms; cannot leave UK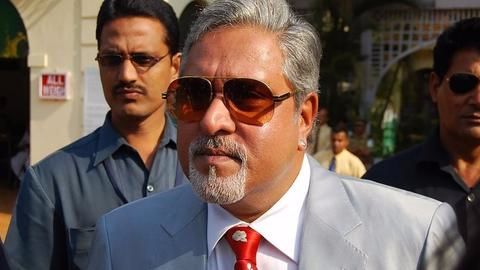 Following his arrest on Tuesday morning, an English Court proceeded to grant bail to Indian liquor tycoon Vijay Mallya, albeit on strict conditions.
Scheduled for hearing again on May 17, Mallya has to follow Britain's extradition rules including remaining in the address provided to the court and being accessible on his mobile phone at all times.
Let us know more on Mallya's British trial!
In context
Mallya granted bail: long wait for extradition
About
Who is Vijay Mallya?
Vijay Mallya, fondly known as the "king of good times", is the ex-Chairman of United Spirits Ltd, India's largest spirit company and currently chairs the UB group.
The industrialist, whose business interests once extended to Formula-1 and cricket, is currently wanted in India for loan defaults worth Rs. 9000 crore.
Mallya has over 20 cases against him with several non-bailable warrants.
Charges against Mallya
There are over 20 court cases against Mallya in India - Non-bailable warrant (NBW) issued on January 31st in the Rs. 1,300 IDBI loan default case and a further NBW on March 17, permitting service tax department's extradition request; amongst others.
Love India news?
Stay updated with the latest happenings.
Notify Me
Details
How did India make it happen?
The arrest comes amidst Modi government's strong push for Mallya's extradition.
In a meeting with UK officials in February, Indian officials had demanded extradition of 15 citizens including Mallya.
Union Minister Arun Jaitley had raised the issue with British PM Theresa May and other British leaders, during his UK visit.
India's arguments for extradition had earlier been submitted to UK Home Secretary Amber Rudd.
Mallya not fazed, slams Indian media
Mallya attempted to put up a brave face, tweeting, "Usual Indian media hype. Extradition hearing in Court started today as expected." He added, "Glad that some media are putting facts in perspective. Surrender of passport, arrest, bail all part of normal extradition proceedings."
Details
What could happen now?
This is just the beginning of a process that could take months. The case will be heard in the UK and once the judge gives a judgement in favour of extradition, the British Home Secretary can take a decision.
However, Mallya has the possibility of challenging any order in higher British courts, or submit a plea to the Home Secretary, further delaying actual extradition.